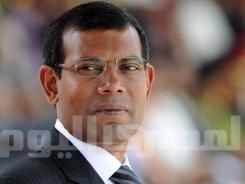 The president of the Maldives Mohamed Nasheed announced his resignation Tuesday during a televised press conference after a mutiny by the police and weeks of demonstrations.
"It will be better for the country in the current situation if I resign. I don't want to run the country with an iron fist. I am resigning," Nasheed said.
Mutinous police in the Maldives took over the state television broadcasing station on Tuesday, joining opposition protesters calling for Nasheed to step down.
The move by the police marked a major escalation of three weeks of street demonstrations by anti-government activists.
They have been demanding for Nasheed to step down after he ordered the arrest last month of Criminal Court Chief Justice Abdallah Mohamed on charges of misconduct and favoring opposition figures.
The island's Supreme Court and prosecutor general have called for Mohamed's release, but he remains in military custody.
A group of police took over the state broadcasting station in the capital Male on Tuesday morning.
"Police outside the [television] station told us that they have taken over," a reporter working for a local newspaper told AFP.
A delegation from the UN Department of Political Affairs headed by Assistant Secretary General Oscar Fernandez-Taranco had been due to arrive on Thursday in a bid to broker a resolution to the political crisis.
Nasheed, a former political prisoner, was elected in 2008 when the Maldives staged its first democratic presidential election, unseating the long-serving autocratic regime of Maumoon Abdul Gayoom.
The Maldives, a country of 1,192 Indian Ocean islands scattered across the equator, is famous for its upmarket holiday resorts and hotels that cater for honeymooning couples and high-end travelers.