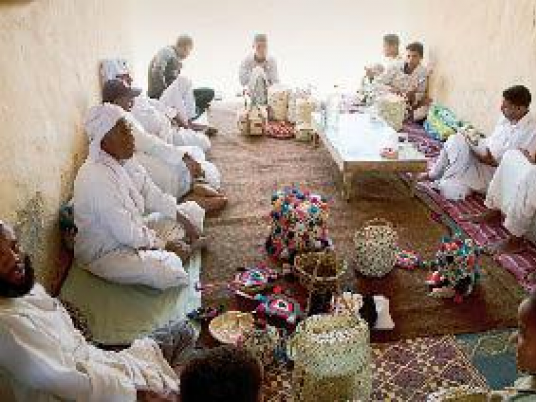 "History of Siwa People Life Since Islamic Conquest Until 1327 AH," a book one can only see at the home of Mohamed Abdel Wahab, the grandson of Sheikh Tayeb Abu Moslem, from Siwa Oasis, not on a shelf but in a box that belongs to Abu Moslem's grandson amid a pile of other books handwritten by Abu Moslem over a century ago.
This book explains the evolution of life in Siwa, and the traditions and customs of the people of Siwa and how water wells and lands were distributed to the people, in addition to the laws set by the tribal chiefs to reward and punish people there.
"Grandfather was the first to get education [in Siwa], where he was born in 1870 and died in 1961. He was the first teacher from Siwa to join the Ministry [of Education]," said Abdel Wahab.
"Grandfather rewrote scripts by his ancestors that recorded all the events that occurred in the oasis including the guests who passed by, disputes between tribes and even the size of date and olive crops," he added.
"The History of Siwa People Life Since Islamic Conquest Until 1327 AH" recounts events since the Romans, who were supervising the Temple of Amun where Alexander the Great was crowned, left the oasis. It also recounts the introduction of Islam to Siwa. The book events end in 1327 AH, or 1909 AD.
"Grandpa has made three copies of his history book using black and red inks he made himself from red pomegranate peel," Abdel Wahab added.
Abdel Wahab stressed that the book is considered a family heritage, adding that the family refused to display the book at the Alexandria Bibliotheca. He pointed out that many authors refer to the book for information on Siwa.
Edited translation from Al-Masry Al-Youm