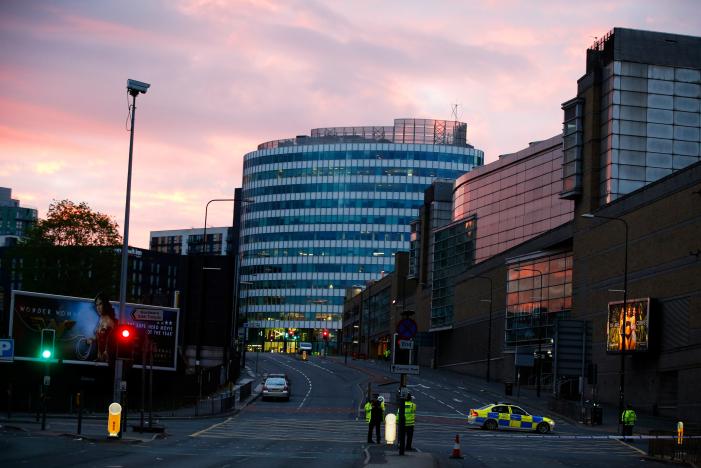 Armed soldiers will be deployed to key sites around the United Kingdom as the country moved to its highest alert level for the first time in a decade following Monday's attack at an Ariana Grande concert in Manchester.
British Prime Minister Theresa May said the threat level was now "critical" and warned that a "further attack may be imminent."
Soldiers were seen in the grounds of Buckingham Palace early Wednesday, as London's Metropolitan Police service announced that military personnel would guard "key locations" as part of what's been called "Operation Temperer."
The protected sites also include Downing Street, Embassies and the Palace of Westminster. The deployments would free up armed police officers to carry out patrols of the city, the Met said in a statement.
Police have identified 22-year-old Salman Abedi as the suspected suicide attacker who detonated a bomb as throngs of teenagers poured out of Manchester Arena Monday night, killing at least 22 people and injuring dozens.
He was believed to acting alone, but May said late Tuesday, "it is a possibility we cannot ignore that there is a wider group of individuals linked to this attack."
Monday's blast marked the deadliest terror attack on British soil since the 2005 London bombings.
The suspected attacker, Abedi, is believed to have died in the powerful blast, though he has not yet been formally identified by the coroner, Manchester police said.
Abedi was of Libyan descent but born and raised in the UK, sources in Manchester's Libyan community told CNN. He was a student at the University of Salford in Manchester.
The University told CNN that he was studying business and management but while he was enrolled for the current academic year he has not been attending classes.
ISIS said on its Telegram channel Tuesday that a "soldier of the caliphate" was able to "plant explosive devices" at the arena, a US counter-terrorism source told CNN. ISIS routinely claims attacks it has no proven connection to.
Authorities have discovered no evidence of a link between the attacker and an established terror group, a British counter-terrorism official told CNN.
Six people who died in the horrific attack have been identified — they include an 8-year-old girl and two teenagers.
Concertgoer Olivia Campbell, 15, whose mother spoke to CNN during an agonizing wait for news from her daughter, had gone to the concert with her friend Adam to celebrate his birthday.
"RIP my darling precious gorgeous girl Olivia Campbell taken far far to soon go sing with the angels and keep smiling mummy loves you so much," Charlotte Campbell wrote, posting a Snapchat photo of her daughter.
Eight-year-old Saffie Rose Roussos from Leyland was also named as one of the fatalities, Lancashire County Council confirmed.
Chris Upton, the head teacher at the Tarleton Community Primary School, described her as "simply a beautiful little girl" who was "quiet and unassuming with a creative flair."
Two Poles were also named among the dead, according to a tweet from Poland's Foreign Ministry. No further details have been released.
Georgina Callander, 18, a superfan who had met Ariana Grande, was killed, according to her school, and John Atkinson, a 26-year-old student from the Greater Manchester area also died in the attack, according to Ivan Lewis, a local politician.
At least 12 victims aged 16 or under were being treated at a children's hospital for serious injuries, some of them fighting for their lives, a Manchester health official said.