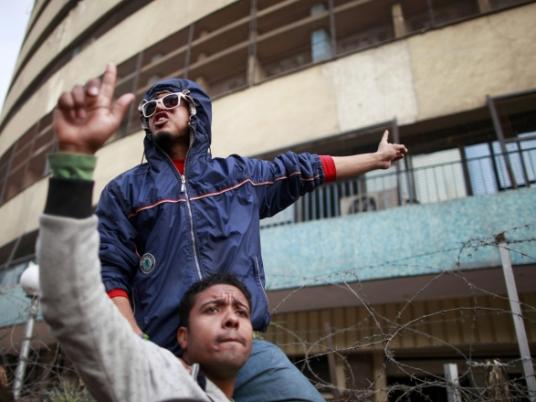 Forty political groups plan to take to the streets tomorrow to demand justice for those killed a year ago in the Maspero massacre.
At least 27 people were killed in front of the Maspero building on 9 October 2011 when military and security forces violently dispersed a peaceful march against assaults on Coptic churches.
The Maspero Youth Union, which was formed in March 2011 to defend the rights of Egypt's Coptic Christian minority, is planning two marches to the Maspero building — one starting in Shubra, the other in Talaat Harb Square.
Also participating in the marches are the April 6 Youth Movement, the Democratic Revolutionary Alliance, Hamdeen Sabbahi's new Popular Current Part and 35 other movements, coalitions and parties.
Rami Kamel, coordinator of the Maspero Youth Union, said the marches are set to begin at 4 pm and would be accompanied by funereal music.
The march is to reach Maspero at 6 pm, with a eulogy ceremony beginning at 7 pm with a screening of a video of the martyr Mina Daniel. The Kazeboon (Liars) Campaign will also screen a number of videos of the massacre and the atrocities allegedly committed by the Supreme Council of the Armed Forces.
Kamel said the group was not planning to hold a sit-in, and the event is set to end at 10 pm on Tuesday evening.
In its statement announcing participation in the march, the April 6 Youth Movement called for the SCAF to be put on trial for "all the crimes that have been committed against Egyptians."
Another statement signed by 20 political parties and movements rejected the "safe exit" granted to SCAF members, calling for a fair trial and retribution for the martyrs.
The statement demands the prosecution of the former commander of military police forces, Hamdi Badin, who now serves as Egypt's military attaché in China; the current leader of the military police forces, Ibrahim al-Damati; commander of the Second Army Pedestrian Division, Ayman Amer, who was responsible for securing the Cairo area, including Maspero; the former commander of the central military zone, Hassan al-Roweiny, who is now assistant to the minister of defense; and former SCAF chief Hussein Tantawi, who is now adviser to the president.
Edited translation from Al-Masry Al-Youm