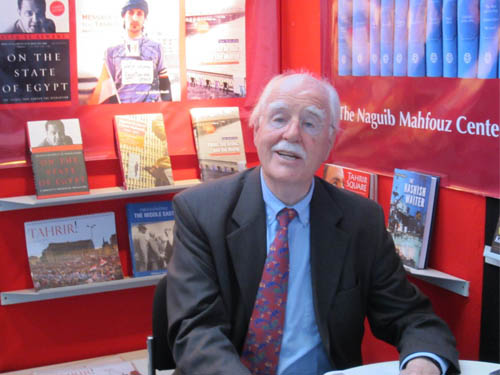 In the early morning hours of Saturday 9 February, the publishing world lost one of its great literary champions.
That is when Werner Mark Linz, long-time director of the American University in Cairo Press, died peacefully after a struggle with cancer. The last and perhaps most meaningful stage of Linz's long publishing career was at the AUC Press, where he spent nearly two decades as director. At AUC Press as elsewhere, Linz was known as an enthusiastic, charming deal-maker. He brought the press from disarray to success to the key regional publisher of English-language literature.
Linz first joined the AUC Press in 1984, working at the press for a little more than two years before returning to his adopted New York. In those years, according to the AUC Press Associate Director Neil Hewison, Linz published several of Naguib Mahouz's novels. "Most importantly at that time, with brilliant foresight, [Linz] signed the comprehensive foreign rights agreement with Mahfouz in 1985," three years before Mahfouz took the Nobel Prize for literature.
Linz left AUC Press in 1986, and for almost 10 years worked on other projects. But he was drawn back to Cairo, and returned to take the helm of AUC Press for another 16 years (1995-2011). Shortly after his return, he established the Naguib Mahfouz Medal for Literature, which led to a great broadening of the press's Arabic literature in translation program, which now includes some 70 writers from across the region.
"Mark's passion for life, publishing, and everything bubbled constantly from an unstoppable wellspring," the AUC Press's Hewison said. "His extraordinary energy often left younger folk like me lagging behind and gasping, and he could see a publishing opportunity at 100 paces and sign the deal before the rest of us had put our glasses on."
Linz was born in Cologne, Germany, and was educated in Germany and the United States, before shifting his home base to New York in 1960.
In the 1960s and 1970s, Linz held senior executive positions with MacGraw Hill and Seabury Press. In 1979, he established his own Crossroad and Continuum publishing companies. Throughout his career, Linz published more than 5,000 works by great artists and thinkers such as Hoda Barakat, Bertolt Brecht, Elias Canetti, Jacques Derrida, Albert Einstein, Paulo Freire, Gunter Grass, Sonallah Ibrahim, Ranier Maria Rilke, and Ludwig Wittgenstein.
But perhaps the strongest and most lasting work Linz did was at AUC Press. According to Chip Rossetti, who worked as a senior editor for AUC Press, Linz "was an inveterate champion of Egyptian and Arab authors internationally and a firm believer in the power of books to counteract ignorance and foster cultural dialogue."
Jessica Papin, who also worked at the press, remembered Linz as a "gentleman and a publisher of the old school." She said, "I was always inspired by the degree to which Mark was a brilliant collector — of experiences, of stories, of friends, of artwork, of adventures. He was a terrific raconteur and fond enough of the spotlight, but also a careful listener with a near photographic memory for everything from deal points to Frankfurt meetings from decades past."
Nearly everyone seemed to have a memory of having fun with Linz: Sherif Bakr, of al-Arabi Publishing, recalled an evening of joking and dancing with Linz in Frankfurt; Rossetti recalled parties at Linz's Zamalek apartment.
But Linz was also remembered as a friend not just of Arabic literature, but of regional scholarship. Political scientist Fatima Sayed, whose "Transforming Education in Egypt" was published by AUC Press, said that Linz "elevated the quality and standards of Middle Eastern publishing with a deep love and dedication to both Egypt and AUC itself. In fact, Linz encouraged publishing the manuscripts of AUC's bright scholars, launching their academic careers and enriching the intellectual life in Egypt and beyond."
As AUC President Lisa Anderson said in a prepared statement, Linz "leaves friends and admirers among artists and writers, publishers and sailors, travelers and book lovers across four continents."
A memorial will be held in Cairo on 19 March to commemorate Linz's life and contributions both to the AUC and to Egypt. An online memorial will be held at the ArabLit blog, and another will be held in London on Saturday 11 May at the Holy Trinity Church, beginning at 11 am.
Also, on 14 April, on the eve of the London Book Fair, London-based Arabia Books will announce the establishment of the Werner Mark Linz Memorial Library of West Asian and North African Thought.