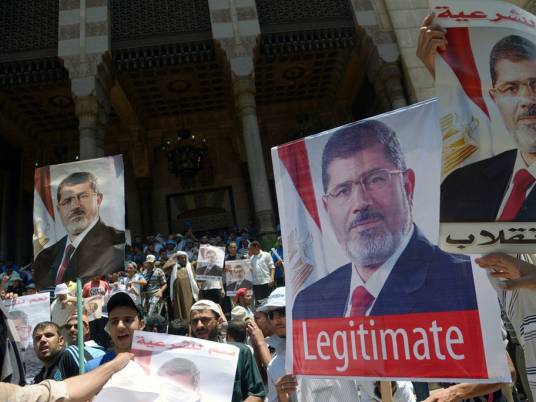 Salah Sultan, a leading member of the Muslim Brotherhood and a member of the National Alliance to Support Legitimacy, offered his apologies to the Egyptian people for making political judgements that were not met with acceptance from part of the Egyptian people.
These political judgements, he said, include the negotiations with Omar Suleiman, former intelligence chief and former Vice President, in addition to opening channels of dialogue with the Supreme Council of the Armed Forces that took power after the ouster of President Hosni Mubarak, in hopes for gradual reform of the country.
In his apology statement entitled, "Excuses to God and apologies to our Egypt and our people," he acknowledged that the revolutionaries' viewpoint was the better choice in order to help achieve the goals of the 25 January revolution, when they advised to continue mobilizing for protests in the streets.
The MB leading member said they were wrong to claim responsibility at that "difficult" time, in spite of the rejection of a lot of other revolutionary partners and patriotic independent figures.
He said, however, they knew that many former regime figures or those who were corrupt wanted to contribute to the destruction of any reform project. The MB, in Sultan's opinion, should have been honest with the Egyptian people so that they could understand the obstacles and burdens the country faces.
Sultan acknowledged making the mistake of not absorbing both Women and the youth, who have been and still are the fuel and the strongest sectors within the January revolution. This prompted a lot of dignified women and young people to turn away from the MB and resort to other parties to achieve their hopes, something which led them to take part in what they didn't know would be our [the MB's] end, referring to revolutionaries participating in the 30 June protests against the MB and their president, Mohamed Morsy.
Egypt's interest is above any harm to our reputation that may be caused by the apology, Sultan went on, noting that the apology is not a sign of weakness, but a testimony before God.
Although Sultan uses the plural form in his apology which was published at the official Freedom and Justice party website, He then says that his apology is personal, and was subjected to discussion at the Pro-Morsy Rabea al-Adaweya sit-in, and it was about to be discussed at the National Alliance to Support Legitimacy and the Muslim Brotherhood, but the sit-in dispersal stopped it from being discussed.
Sultan, who is also a professor of Islamic Sharia at Cairo University, called for discussing his apology within the MB and the pro-Morsy alliance, with the ability for it to be modified or edited, before publishing it.
Another apology written by Hamza Zawbaa, a spokesperson for the Freedom and Justice Party, was filed, but with a storm of rejection within the Brotherhood, prompting to the drafting of another apology written by one of its Sharia Scholars.