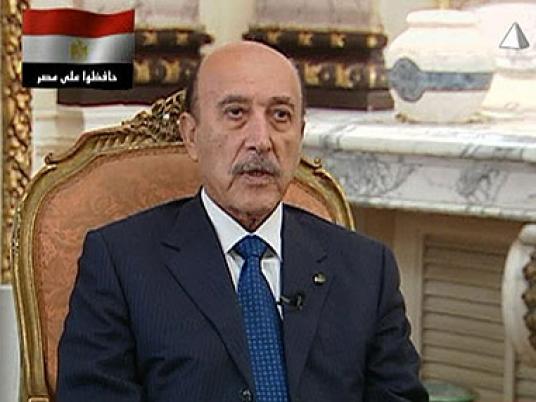 When Omar Suleiman, former spy chief and vice president under ousted President Hosni Mubarak, appeared for 30 seconds on 11 February 2011 to announce Mubarak's resignation, many thought that it was the end of his career and an era. But just over a year later, his presidential campaign is making headlines and prompting outrage from the revolutionaries and Mubarak regime opponents who see it as a slap in the face.
Suleiman, who in his role as intelligence chief was responsible for persecuting many of those who made the revolution possible, vows today to carry on the revolution's goals through his presidential bid.
Besides raising questions about where the revolution is headed, Suleiman's candidacy is further polarizing the political scene, marked recently by more public feuds between the emerging post-revolutionary civilian elites, namely Islamists, and the current military rulers, who are believed to remain part of the old regime.
What predates Suleiman's decision to run remains unknown; Mubarak's confidant kept a low profile over the past months and was curiously spared from the trials that many of his former colleagues are facing, including Mubarak himself. Suleiman has taken the stand at some of these trials, but as a witness.
Emerging from the intelligence hideouts
With a deep voice, thin grey mustache and dapper suits, Suleiman fits the bill of a spy chief. He headed General Intelligence Services for 18 years before Mubarak briefly appointed him Vice President during his last days in office in February 2011. Since 2001, Suleiman led Mubarak's cryptodiplomacy as he took over key foreign policy dossiers and his name started to appear in the public sphere despite his usually low profile.
His close relationship with Mubarak goes back at least to 1995, when Suleiman ordered an armored vehicle shipped to Addis Ababa to transport Mubarak during a visit there, saving his life from an assassination attempt by Jama'a al-Islamiya gunmen.
The 77-year-old presidential candidate, born in the Upper Egyptian town of Qena, joined the army in 1954 and received advanced training at the Frunze Military Academy in the USSR. He also holds a master's degree in political science from Cairo University. Suleiman's intelligence career began in 1986, when he became deputy head of military intelligence, and then its director in 1991 before being appointed to the top General Intelligence Services post in 1993, which reports directly to Mubarak. He served in the 1962 Yemen conflict and the Arab-Israeli wars of 1967 and 1973.
Suleiman was ranked the most powerful intelligence chief in the region by Foreign Policy Magazine in 2009, ahead of the Mossad chief at the time, Meir Dagan. His legacy lies in his ruthless war against Islamic militants through the infamous extraordinary rendition program in partnership with the CIA that was initiated with a joint agreement between Egyptian intelligence and the CIA in 1995. Suleiman's bureau was responsible for identifying and receiving suspected militants from around the world rendered to Egypt by the CIA. These renditions gained Suleiman a reputation in the torture business, as he used to personally supervise the torture and electrocution of suspects during interrogation while being held in underground detention for years, according to A History of the Egyptian Intelligence Service by Owen L. Sirrs.
Suleiman became an American favorite when he spearheaded their "war on terror" after the September 11 attacks, after which renditions became even more atrocious, Sirrs writes. . His hostility toward Iran also made him an ally.
One of the most famous cases is that of Mamdouh Habib, an Australian citizen who was arrested in Pakistan days after the attacks due to claims that he had been in an Al-Qaeda training camp, which Habib denies. He was sent by the CIA to Egypt, where he says he was held in inhumane conditions and tortured for seven months before being transferred to Cuba. This is an excerpt from Habib's book My Story, in which he describes his encounter with Suleiman during interrogation:
I was sitting in a chair, hooded, with my hands handcuffed behind my back. He came up to me. His voice was deep and rough. He spoke to me in Egyptian and English. He said, "Listen, you don't know who I am, but I am the one who has your life in his hands. Every single person in this building has his life in my hands. I just make the decision."
I said, "I hope your decision is that you make me die straight away."
"No, I don't want you to die now. I want you to die slowly." He went on, "I can't stay with you; my time is too valuable to stay here. You only have me to save you. I'm your savior. You have to tell me everything, if you want to be saved. What do you say?"
"I have nothing to tell you."
"You think I can't destroy you just like that?" He clapped his hands together.
"I don't know." I was feeling confused. Everything was unreal.
"If God came down and tried to take you by the hand, I would not let him. You are under my control. Let me show you something that will convince you."
"Now you are going to tell me that you planned a terrorist attack," Suleiman persisted.
"I haven't planned any attacks."
"I give you my word that you will be a rich man if you tell me you have been planning attacks. Don't you trust me?" he asked.
"I don't trust anyone," I replied.
Immediately he slapped me hard across the face and knocked off the blindfold; I clearly saw his face.
A Wikileaks cable about the rendition program highlighted Suleiman's direct role in reassuring the US over concerns that three Egyptians detained at Guantanamo Bay would be prosecuted to protect US and Egyptian security interests. The cable also characterized Suleiman's word as a "guarantee" by the Egyptian government.
Furthermore, Suleiman served as a key mediator in the Palestinian-Israeli peace talks since the second Palestinian Intifada in 2000.
Israeli lawmaker and Former Defense Minister Binyamin Ben-Eliezer told Army Radio days ago that the former spy chief would be the best Egyptian president in terms of Israeli interests, as he views relations with Israel as a strategic "cornerstone," unlike a Brotherhood leader who could jeopardize Israel's 1979 peace treaty with Egypt.
According to a leaked cable published by Wikileaks, David Hacham, a senior adviser from the Israeli Defense Ministry, told the American Embassy in Tel Aviv in August 2008 "there is no question that Israel is most comfortable with the prospect of Omar Suleiman."
"Hacham was full of praise for Suleiman, and noted that a 'hot line' set up between the MOD and EGIS [Egyptian General Intelligence Services] is now in daily use," said the cable.
Suleiman is considered an accomplice in the Israeli siege on Gaza, viewing the territory as a threat to Egypt's stability due to Hamas' close ties with the Muslim Brotherhood at home. The cables quote Suleiman saying that Hamas should be undermined and that Egypt wants Gaza to go "hungry" but not "starve." In response to Israel's criticism of Egypt's unsatisfactory performance on the border with Gaza, Field Marshal Hussein Tantawi and Suleiman would welcome the deployment of Israeli troops in Sinai if it would stop the smuggling of weaponry to Gaza, according to the cable.
Today, as political instability mars the transition in Egypt, many believe that EGIS holds a lot of keys regarding the broader nationwide security.
Returning with a revolution hat
During the 18-day uprising, Suleiman blamed "foreign influences" for the rebellion against Mubarak's 30-year reign and promised to punish those responsible for the violence.
"I have served with President Mubarak for many years and I know that he is an honest man. He is a committed man," Suleiman said during a state TV interview, urging Egyptians to "respect Mubarak as father and leader."
In another interview during the 2011 uprising, Suleiman told ABC's Christiane Amanpour that he believes Islamists are pushing young people to the streets. He also said he did not believe that democracy should be implemented in Egypt yet, but "only when the people here have the culture of democracy." After announcing his candidacy, he vowed to implement the demands of the revolution.
"Let us say that you cannot turn back the clock. The revolution has formed a new reality … and no one could ever revive a regime that has failed, ended, and was rejected by the public," state-run daily Al-Akhbar quoted Suleiman as saying Sunday.
"I have told the Egyptian youth and many others with whom I have met during the revolution period that I am in favor of their legitimate demands," he reportedly added.
Suleiman assured that he would not interfere in the trials of the old regime members if he wins office, and rejected the claims he is backed by the SCAF.
Many however, believe that Suleiman's candidacy is a reflection of SCAF's anxiety over who will hold the presidency and an attempt to preserve their longstanding economic and political immunity. For the strongly emerging Muslim Brotherhood, this comes at odds with their own anxieties of not holding any executive post to reinforce their legislative plurality.
To combat Suleiman's candidacy, Parliament is about to pass legislation that would bar him and Ahmed Shafiq, a Mubarak-appointed prime minister and former minister of civil aviation, from running in the elections.
Power sharing aside, Islamists have a long-held animosity with Suleiman, who was one of the leaders of crackdowns against them.
In May 2004, authorities launched an extensive clampdown on the Brotherhood, detaining 54 of its members and charging them with recruiting volunteers for the wars in Iraq, Chechnya and Palestine and shutting down the group's websites and affiliated businesses.
Suleiman claims he received death threats from Islamists immediately after announcing he would run for president. .
He escaped an assassination attempt on 4 February 2011 when an unknown group fired on his car from a stolen vehicle, killing one of his bodyguards.
Although the features of Suleiman's campaign aren't clear yet, a large swathe of his constituency is comprised of voters desperate for economic and political stability. They see Suleiman as the military and intelligence strongman who is capable of enforcing stability and security. Those fearing Islamist domination make up another important bloc that could be swayed to vote for him.
Earlier this month before Suleiman confirms he would run in the election. Three political parties in Parliament, composed of some former members of Hosni Mubarak's ruling National Democratic Party (NDP), said they intend to support him. Meanwhile, a number of revolutionary movements and political parties are planning protests in a week to denounce Suleiman and Shafiq's campaigns.