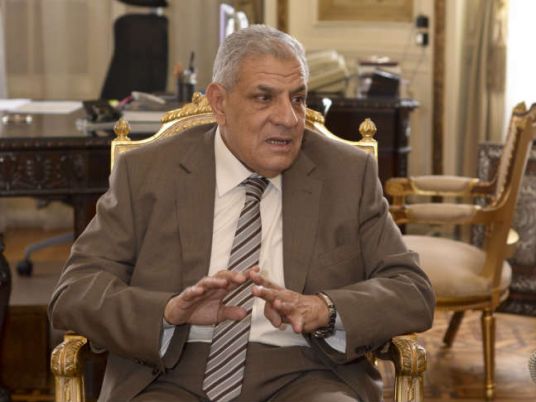 Prime Minister Ibrahim Mehleb met on Sunday with a delegation from the Independence Current, presided by Ahmed al-Fadaly.
Fadaly, coordinator for the group, an alliance of leftist political parties, said they called on Mehleb during their five-hour meeting not to issue the law on electoral constituencies division before the demarcation of governorates, so legal situations would be correct and prevent controversy on unconstitutionality of the coming parliament.
In a statement on Monday, Fadaly said that Mehleb stressed needs to widen the electoral alliances as well as presence of a civil political alliance to support democracy in Egypt.
Fadaly added that the government is optimistic about the formation of strong alliances and that he demanded meeting with the current representatives to hear proposals over the law on electoral constituencies division as well as the necessary measures to hold parliamentary elections.
"The prime minister tackled with the Independence Current leaders the traditional system of two seats for every constituency and the other system of one seat for every electoral district. Many of the current members preferred the second system, making the number of constituencies 420 for the single-winner system," Fadaly said.
They also expressed consensus over the current form of the list-based system with 120 seats, he added. "We urged the prime minister to support political parties at the current phase in order to be able to fight extremism and terrorism."
"Cabinet stressed right of remote and borders areas of exception from the population rules when it comes to electoral seats, due to specific nature of these places being related to the national security like governorates of Aswan, New Valley, Red Sea, Luxor, Marsa Matrouh, North and South of Sinai," Fadaly said.
Mehleb, according to Fadaly, called on political parties to support the governments in its war against terrorism as well as raising awareness among people on terrorism.
The meeting was attended by Interim Justice Minister Ibrahim al-Heneidy, Local Development Minister Adel Labib, Sport and Youth Minister Khaled abdel Aziz, Prime Minister Adviser to Elections Affairs Refaat Abul Qomsan, in addition to representatives of the Independence Current including 36 parties and 18 coalitions.
Edited translation from Al-Masry Al-Youm