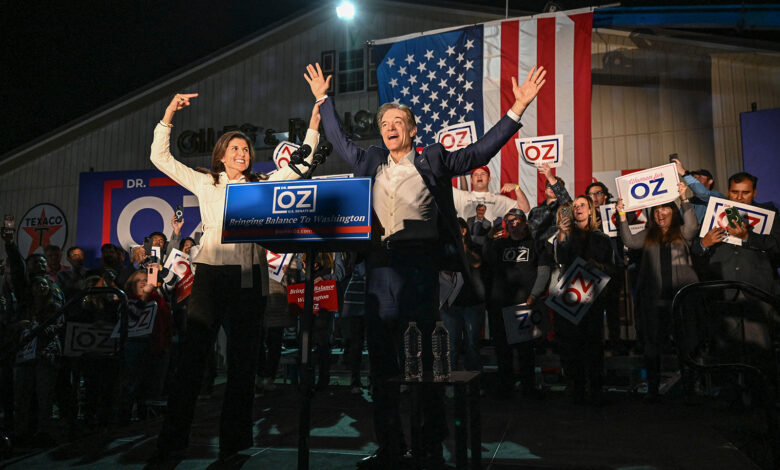 Mehmet Oz made his final pitch to voters at a rally the night before Election Day, saying, "this is bigger than Pennsylvania."
The hotly-contested Pennsylvania Senate race between Republican Oz and Democrat John Fetterman has had outsized importance in the fight for Senate control.
In his final message before voters hit the polls Tuesday, Oz hit hard on a few major issues that have been consistent and effective throughout his campaign: The economy, crime, fentanyl overdoses and the border.
And he once again asked his supporters to reach out to conservative Democrats and Independents to draw them in, telling the crowd in Montgomery County, Pennsylvania, to ask 10 people a simple question: "Are they happy with the way the country is headed?"
And, if not, "Tell them I am the candidate for change," Oz said.
Former Governor of South Carolina and U.S. Ambassador to the United Nations, Nikki Haley, introduced Oz to the stage in Pennsburg Monday night.
"Dr. Oz knows what I know. When you're the child of immigrants, you know the sacrifice, you know the love of country, you know the fact that your parents raised you to give back because of how blessed you are," Haley said. "He came from nothing, and he made himself something because only in American can that have happened."
Oz closed with a message of "bringing balance to Washington" over extremism.
"I'm not a politician. You all know that. I'm a heart surgeon, and we tackle big problems, life-threatening problems like a broken heart. And we unite to do that. We don't divide," Oz said.
"Make sure we send the right person to Washington to represent your values and address the problems that are plaguing all of us here in Pennsylvania and the nation, because this is bigger than just Pennsylvania. It's in fact bigger than the country, in many ways," Oz added.