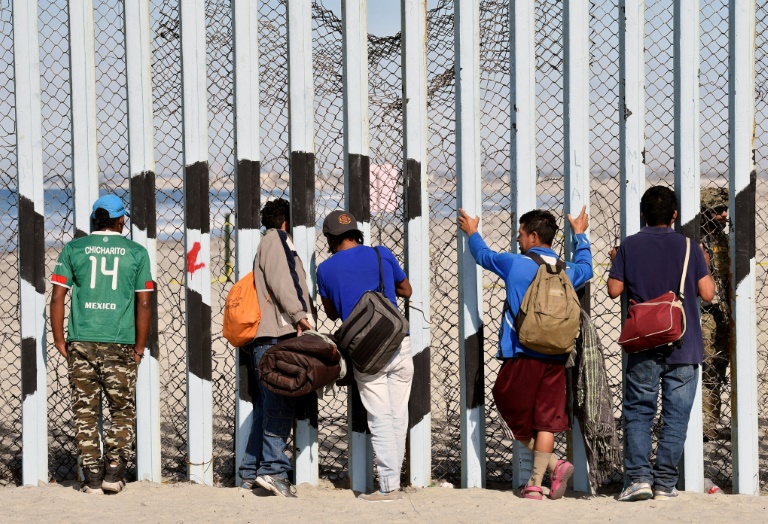 The Central American migrant caravan faced a desperate situation Friday as its numbers swelled at the US-Mexican border, where it got a cold welcome and a warning that its chances of entering the United States were "almost nil."
After spending more than a month traveling the 4,300 kilometers (2,700 miles) to the Mexican border city of Tijuana, walking and hitch-hiking much of the way, thousands of migrants faced the bleak reality that their American dream was about as untouchable as it was when they started.
Osman Bueso, a 28-year-old Honduran man who was one of the first to reach the border, said he had no intention of waiting the months or years it could take to seek asylum in the US, and was ready to try to crash the border, as the migrants did when they entered Mexico from Guatemala on October 19.
"That might be what ends up happening," he told AFP near the El Chaparral border crossing, where there is already a backlog of 1,400 people waiting to request asylum and cases are being processed at a rate of about 30 to 40 a day.
"All I went through to get here, I'm not going to let it be in vain. I've been on the road for 35 days to make it across this border…. We're not afraid. We're ready to die, whatever it takes. When you live in poverty and violence, it's better to die than to live."
Across the border, US President Donald Trump has deployed nearly 6,000 troops to deter what he has called an "invasion" by a group full of "thugs" and "hardened criminals."
It has not stopped the migrants: more than 3,200 have now arrived in Tijuana, according to authorities, with some 2,000 more on the way — and that is only the first caravan.
In all, some 8,000 migrants are currently crossing Mexico in several caravans, according to the Mexican interior ministry.
'Enormous risk'
Interior Minister Alfonso Navarrete said Thursday that the migrants' chances of entering the United States were "almost nil."
The US is already saturated with asylum cases: requests increased by 2,000 percent in the past five years, and there are currently 700,000 pending.
Adding to the caravan's woes, under an executive order Trump issued last week, migrants who do not cross at official border posts will no longer be allowed to request asylum, and face automatic deportation.
Even if they endure the long wait to cross at such posts, less than 10 percent of asylum requests are granted, the US government says.
As the migrants face up to their bleak lack of options, "there's an enormous risk of an incident along the border — especially when we have heard the openly hostile rhetoric from the US government," warned Navarrete.
Xenophobic protests
The caravan has also been met with protests by some Tijuana residents, and xenophobic comments from Mayor Juan Manuel Gastelum, who said the "horde" of migrants had arrived "with an aggressive, obscene plan."
Gastelum, a member of the conservative National Action Party (PAN), called on the Mexican government to deport the migrants immediately.
"You're going to tell me we have to respect human rights. But human rights are for law-abiding humans," he said.
On Wednesday, hundreds of Tijuana residents protested at a park where the migrants had set up camp along the fence between Mexico and the United States.
Shouting anti-immigrant slogans, protesters threw stones at the migrants, even targeting children in some cases, as police looked on.
The city has however set up a shelter for the migrants in a sports complex, where more than 2,000 of them spent Thursday night.
The migrants are mostly fleeing poverty and unrest in Central America's "Northern Triangle" — El Salvador, Guatemala and Honduras, where brutal gang violence has fueled some of the highest murder rates in the world.
The main caravan began its journey on October 13 in San Pedro Sula, Honduras.
The migrants rushed the Mexico-Guatemala border six days later, clashing with riot police and then fording the river between the two countries when Mexican authorities refused to let them through as a group.