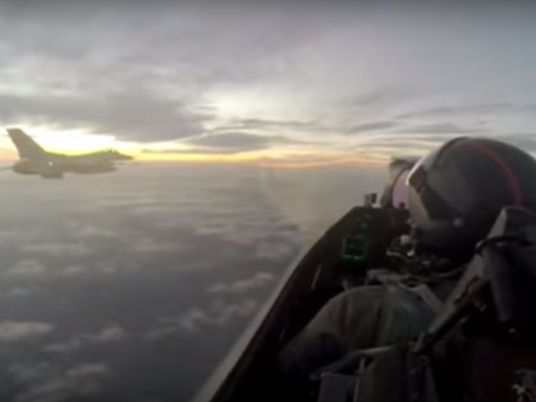 The Egyptian military said on Saturday it had launched several airstrikes targeting terrorist elements in North Sinai in retaliation for a terrorist attack on Friday that killed 12 army personnel.
State television broadcast a statement from the Armed Forces General Command on Saturday morning saying several formations from the Egyptian Air Force took off at dawn on Saturday to conduct airstrikes over a three-hour period.
The airstrikes resulted in the destruction of areas harboring terrorist elements and storage areas for weapons and ammunition, along with seven SUV vehicles, the statements aid.
A large number of terrorists were also killed in the airstrikes, according to the statement, although no details were given of locations or the number of casualties.
The military stressed that, with the support of the Egyptian people, it intends on eliminate terrorist elements threatening the security and stability of the country.
The statement said the armed forces "will not be dissuaded by terrorist acts from performing its sacred duty, regardless of the difficulties and no matter how great the sacrifices."
Islamist militants killed 12 members of Egypt's military in North Sinai province and wounded six more in an attack on a checkpoint on Friday, the military said, adding that it killed 15 militants in return.
Islamic State claimed responsibility for the incident, which took place 40 km from the town of Bir al-Abd, making it the first major attack in the central Sinai area, which had so far escaped the militant Islamists' campaign.
It was carried out using assault rifles and some heavier weapons, medical and security sources said. The wounded were taken to hospital in Arish.
"An armed group of terrorist elements attacked a security checkpoint in North Sinai this morning using four-wheel drives and were immediately engaged. Our forces killed 15 terrorists," the military said in a statement. "The clashes led to the martyrdom of 12 and injury of six armed forces heroes."
Islamic State said it killed more than 20 soldiers and that it suffered no casualties. It said its members looted weapons and ammunition from the checkpoint.