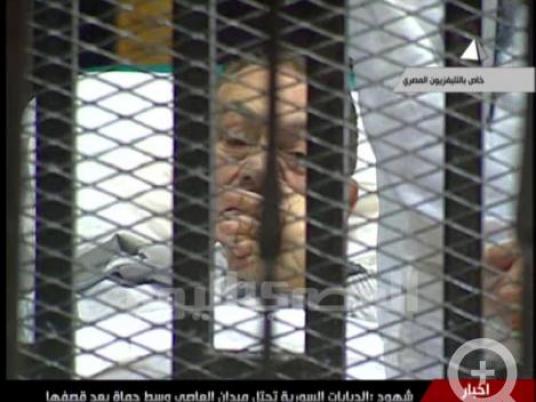 Major General Mamdouh Shahin, member of the ruling Supreme Council of the Armed Forces, on Tuesday said that the military courts do not hear cases related to the figures of the regime of ousted President Hosni Mubarak, pointing to Mubarak himself, former Vice President Omar Suleiman, former Prime Minister Ahmed Shafiq and former chief-of-staff Zakaria Azmy.
He told Parliament that all cases of illicit gains by figures of the former regime are handled by the regular prosecutions and courts, adding that they face charges for illicit gains they had collected after they left office, according to state-run Al-Ahram newspaper.
Shahin's statements contradict information about the military prosecution investigating Mubarak in certain arms deals.
The attorney general had in May 2011 briefed the Military Judicial Authority of lawsuits against Mubarak suspecting that he received kickbacks from arms deals, as the military prosecution has jurisdiction by law to investigate charges related to the armed forces.
The attorney general referred in May 2011 charges against Suleiman of squandering public money during the 20 years he spent as intelligence chief to military prosecution. No information about these allegations is publicly available.
The reports accuse officials from the Nile Valley Gas Company, which is controlled by the General Intelligence Services, of wasting public money as well.