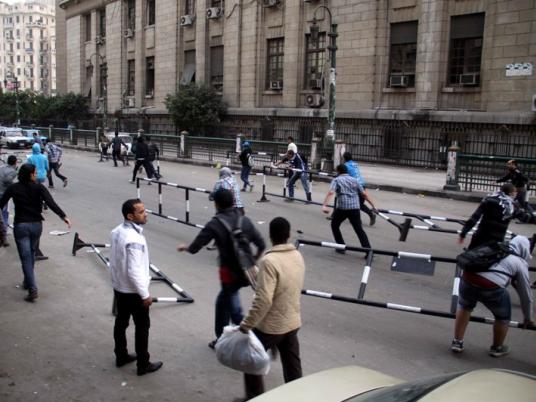 Justice Minister Ahmed Mekky on Monday said he is sad to see sieges, sit-ins and demonstrations outside courts, as well as the attack on the Judges Club.
"This is against our values ​​and traditions," he said.
Mekky vowed to resolve the judicial crisis in consultation with the Supreme Judicial Council, and under the supervision and with the participation of the judges themselves, as soon as work is resumed.
He appealed to the media, the judiciary and all citizens to preserve the reputation of the judiciary, and to protect of the rule of law and the independence of the judiciary.
Abdallah Fathy, secretary of the Judges Club, called the minister's statement "poor," and said the club's board is issuing a statement in response.
Ahmed al-Zend, the head of the Judges Club who is critical of Islamist President Mohamed Morsy's policies, was assaulted outside the club on Sunday night by 15 people, three of whom were arrested.
The attack came hours after he led a march of hundreds of young judges and prosecutors to the Supreme Constitutional Court to demand the resignation of Prosecutor General Talaat Abdallah, while Abdallah's supporters staged a demonstration requesting that he stay.
Earlier Monday, Qasr al-Nil Prosecution detained three suspects believed to have attacked Zend for four days pending investigations.
Palestinian Abdel Rahman Eissa, 28; Khaled Abdel Rahman, 23; and Mahmoud Metwally, along with others, allegedly attacked Zend while waiting outside the club and chanting against judges, according to investigations. The three have been charged with illegal assembly, possession of firearms and assault.
Prosecutors heard the testimonies of eight eyewitnesses who said the assailants fired shots and threw stones at Zend and members of the prosecution while they were exiting the club.
Zend has been leading the movement against what many judges see as Morsy's attempt to curb judicial independence.
Edited translation from Al-Masry Al-Youm