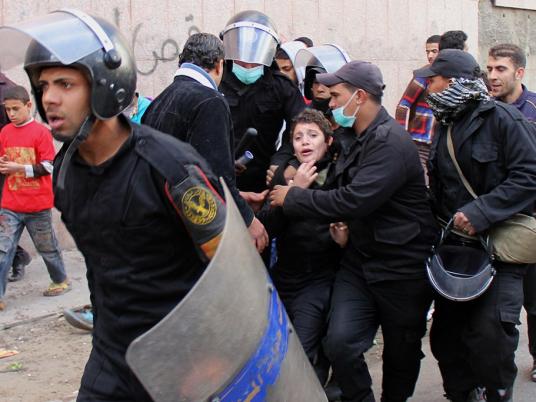 The assistant head of the Central Security Forces defended the police on Friday in an interview broadcast on state TV, claiming they never used excessive force against protesters.
"I wish someone could tell me if we ever stood against a demonstration. Our role since the revolution has been securing vital institutions," Major General Ashraf Abdallah argued.
In the interview, which took place during President Mohamed Morsy's visit to the CSF headquarters in the Darasa distrit, Abdallah insisted that the CSF would never take the side of any political movement, and denied that CSF troops used force against protesters.
"I defend myself with tear gas, where is excessive force? The excessive force is what I, the officer and the soldier are subjected to. We are shot with live ammunition and birdshot. Bring one incident that proves we have used force," Abdallah claimed.
"The CSF have legitimate demands, including legal and media protection and the right of officers and soldiers to work under a law that defends them from fierce media campaigns," Abdallah added.
"We are not going to wait for the Semiramis Hotel to be burned. If it got burned, constructing a similar building would cost half a billion dollars. Could the [CSF] budget afford that? And we will not allow the presidential palaces, the People's Assembly or the Shura Council to be infiltrated," Abdallah insisted.
"Since the CSF was established 40 years ago, we have spared no effort to secure the homeland and citizens. We have a big [role] in protecting facilities and we work on eliminating thuggery, terrorism and drugs," said Abdallah.
Abdallah denounced what he called "fierce campaigns" against the CSF. "We try to develop our agencies, as I try to prevent clashes between the security personnel and the rioter — I will not say protester," Abdallah added.
"The CSF will never stage strikes or sit-ins … We are sons of the people and the police will never take the side of any political movement," he added.
Abdallah called on citizens to help the police restore respect for the rule of law and the police.
Calls for reforming the whole police system have been frequent since the toppling of former President Hosni Mubarak, who used police to suppress dissidents. The police enjoyed widespread impunity during his regime.
The Cairo Criminal Court recently sentenced a CSF officer to three years in prison for shooting at protesters, intentionally targeting their eyes, during clashes between security forces and demonstrators near the Interior Ministry in November 2011.
Edited translation from Al-Masry Al-Youm