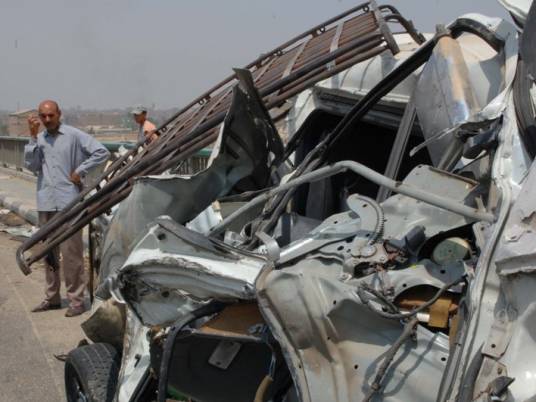 Six people died and another nine were injured on Monday when a private car collided with a pick-up car on the Ring Road in front of Abu Shenaf Bridge in Minya, said the Police Helpline Operations Department.
Ambulances were dispatched to the scene of the accident under supervision of the Director of Minya's Ambulance Utility Sherif Medhat, transferring the victims to the Public Minya Hospital.
Police filed a report on the accident to the public prosecution to continue investigations.
Car accidents in Egypt have declined by 23.6 percent, recording 8,480 accidents in 2018 compared to 11,089 accidents in 2017, reported Egypt's Central Agency for Public Mobilization and Statistics (CAPMAS).
CAPMAS credited the decreasing rates of car accidents to improved roads across the country.
CAPMAS added that accidents in 2018 left 3,087 people dead, 11,803 injured and 13,441 vehicles damaged.
The human element was the main cause of accidents, accounting for 76.8 percent of total accidents in 2018, followed by vehicles accounting for 15.7 percent and the environmental element accounting for 2.7 percent.
Edited translation from Al-Masry Al-Youm