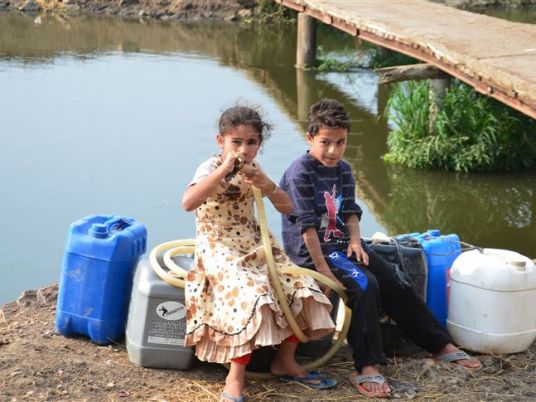 As summer weather temperatures continue to rise, villagers in Minya and residents of Giza complained of shortages of drinking water on Thursday.
In the village of Sheikh Masoud in Minya, residents said they resorted to rural hand-pumps due to repeated water cuts.
An official from the sanitation and drinking water company in Minya said electricity company officials were responsible for the water crisis, because water stations were not running at full capacity due to a poor electricity supply.
In Giza, water cuts occurred on a wide scale, prompting citizens to travel long distances to fill jerrycans with water that barely covered their daily needs.
Starting on the first day of Ramadan this week, water cuts occurred in areas with high population densities, including Bulaq al-Dakrour, Imbaba, Ard Ellewa, al-Kitkat, Faisal and Kafr Tohormos.
Imbaba residents sent photos to Al-Masry Al-Youm showing people gathered in a coffee shop, waiting to fill empty jerrycans and bottles with water.
Imbaba residents said water cuts started on the first day of Ramadan and called on officials to address the crisis.
Edited translation from Al-Masry Al-Youm