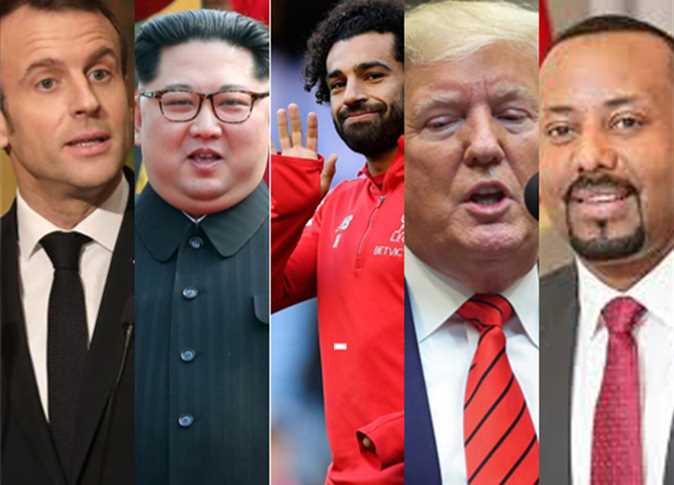 Time magazine on Saturday opened votes for readers to choose Time's 2019 Person of the Year, in preparation for the announcement in December.
According to Sputnik, the list includes several celebrities, heads of state, artists and international athletes such as Egyptian international and Liverpool striker Mohamed Salah, and Nobel Peace Prize winner Ethiopian Prime Minister Abiy Ahmed.
The list includes Russian President Vladimir Putin, US President Donald Trump, French President Emmanuel Macron, Chinese President Xi Jinping, British Prime Minister Boris Johnson, North Korean leader Kim Jong-un, German Chancellor Angela Merkel, Trump's rival candidate in the 2020 US presidential election Joe Biden, and US Secretary of State Mike Pompeo.
Also included is the founder of Amazon billionaire Jeff Bezos, founder of Facebook Mark Zuckerberg, American singer Taylor Swift, the youngest member of the US Congress Alexandria Ocasio-Cortez, and the crew of the drama series Game of Thrones, which wrapped up its last seasons this year.
Other noticeable people are American singer Jennifer Lopez, American actor Keanu Reeves, an unknown person who provided information that prompted the US House of Representatives to open an investigation with Trump, US House Speaker Nancy Pelosi, environmental activist Greta Thunberg, Iran's Supreme Leader Ayatollah Ali Khamenei, and the Kurds in Syria.
The list did not include any Arab leaders, however.
Person of the Year is an annual issue of Time magazine that features and profiles a person, group, idea, or even object that for better or for worse has done the most to influence the events of the year.
Edited translation from Al-Masry Al-Youm