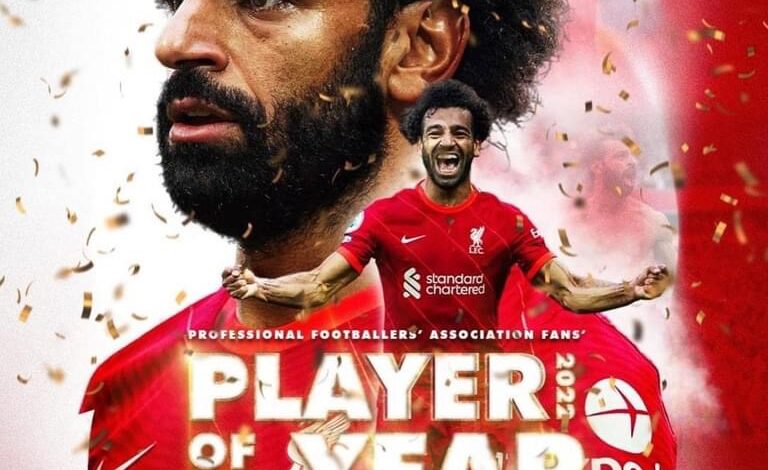 The official page of the Liverpool club on Twitter praised the Egyptian football star Mohamed Salah after winning Liverpool's Standard Chartered Men's Player of the Season 2021-22 award.
Salah was voted in for the second time in a row for  the player of the season by supporters and Forever Reds, the club's official former players association.
"Another stellar campaign from our Egyptian King earns him the Standard Chartered Player of the Season," the official page of Liverpool club on Twitter read.
The page, added: "31 goals, 15 assists. A fantastic season, Mo Salah."
Salah previously won the title of top scorer in the English Premier League for this season, after scoring 22 goals, equal to the goals scored by Tottenham Hotspur's Son Heung-min.
Salah won the Premier League's Playmaker of the Season award for the most assists in the 2021-22 season, after assisting 13 goals.
Salah is currently spending his vacation in Hurghada after taking a break from the national team training due to a minor injury.
Technical director of the Pharaohs, Ehab Galal, announced that Salah would take a break and would not join the Egyptian team's mission to Malawi, for the Egypt-Ethiopia match in the second round of the Africa Cup of Nations qualifiers to be hosted by Cote d'Ivoire in 2023.
Salah was voted the Football Writers' Association's Footballer of the Year, best player of the season by the Liverpool Disabled Supporters Association (LDSA), and the Professional Footballers' Association (PFA) Fans' Player of the Year.
Photo credit: Mohamed Sarah's official Facebook page