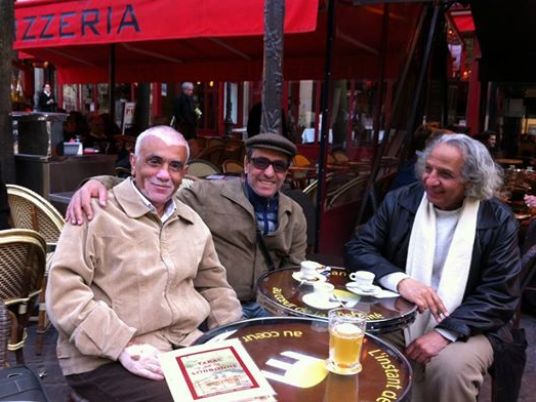 Egyptian prominent novelist Mohamed Nagy passed away last night in Paris after a four-year battle with health complications caused by the hepatitis C virus.
Nagy is regarded as one of the most prominent writers in Arab region leaving behind a myriad artistic works that greatly influenced a sequence of consecutive generations.
He was born in Samanod, Minya governorate in 1947 and graduated from Faculty of Arts in the Journalism Department. He won Literary Excellence award for his outstanding novel "Khafia Qamar" (The Hidden Moon).
Among his novels that made a mark in Arabic literary realm are, "Lahn al-Sabah" (Morning's Melody), "Maqamat Arabiya" (Arab Keys), "Leilat Safar" (Departure night) and "Qas & Nelly."
His "Al-Ayqa Bint Al-Zayn," a reconciliation with Egyptian nature themed novel published in July 2001, mirrors Nagy's distinctive writing style in conveying profound feelings through sketchy words.
"One night," the novel's narrator recounts, "a crippled bird got caught in the net. Drunk, his body felt heavy, and he couldn't see straight. Someone caught up with him at the entrance to the bar, helping him back to the empty house. The wooden sounds their footsteps made seemed to play out a final tune in the long film of the chase."
On his Face book page, Alaa Awad, Professor of hepatogastroenterology at Theodor Bilharz Research Institute and a lifetime companion of the later novelist, expressed his grief on his learning of Nagy's death: "In a long journey with disease and treatment, he showed strength, courage and faced the challenge…Nagy is a dear friend, unique novelist, and gentle human being, nobody has other choice but to love him."
In his last interview with Asharq Al-Awsat newspaper, before traveling to Paris to undergo a liver transplant, Nagy shed light on his own unbeatable perspective of living a life unfettered by fear of death.
"I had been through harder and more dangerous circumstances than this fatal disease. In fact, there is something harder than death which is the need to compromise over your values. This is the moment where you actually wish to die in order not to do so," he said adding that the disease was an eye-opening experience to his confrontation abilities and a new faith quest.
Moustafa Ataya, managing editor of French magazine Naissances and a close friend to Nagy, also wrote heartbreaking words on his Facebook page, expressing how the renowned novelist dramatically influenced his life during their repetitive encounters in France, describing him as "an important incident" in his life.
Ataya also praised Nagy's writing style saying his touching words are able to send a wave of shiver and excitement washing over his body and make him delves into his protagonists' mind with his magical, intricate plots and stylistically complex writing.