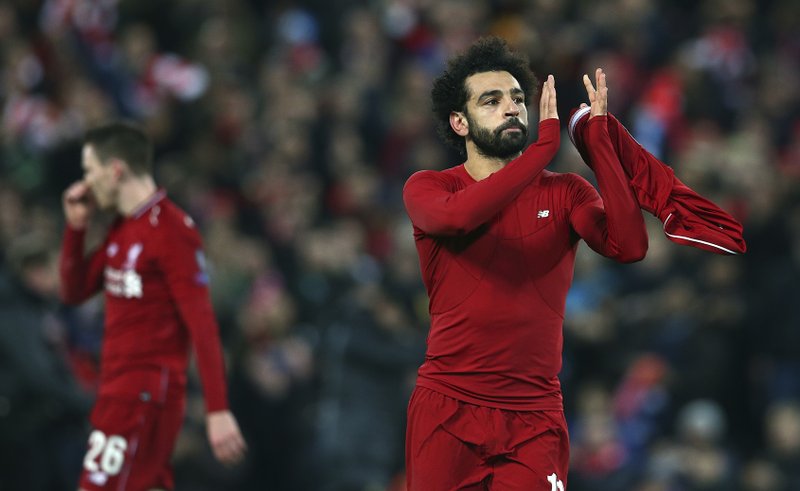 Mohamed Salah, Egypt's national football team and Liverpool FC star, has joined the national team camp Wednesday morning to prepare for the Africa Cup of Nations, which will kick off in Egypt later this month on June 21.
Ehab Lehita, the national team manager, announced on Wednesday that Salah would also take part in Wednesday evening's practice.
With Salah joining, the list of 23 players competing in the tournament is now complete.
Egypt's National team coach Javier Aguirre announced the list of 23 players participating in the tournament.
The list which will be sent to the CAF on Wednesday includes Ahmed al-Mohamady, Waleed Suleiman, Abdallah al-Saeed, Ahmed Ali, Mohamed al-Nenni, Mohamed Salah, Ahmed Hegazy, Omar Gaber, Ahmed al-Shennawy, Marawan Mohsen, Tarek Hamed, Ahmed Hassan Koka, Ali Mohamed Ghazal, Mahmoud Hassan Trezigee, Amr Warda, Ayman Ashraf, Mohamed al-Shennawy, Mahmoud Hamdy al-Wensh, Baher al-Mohamady, Ahmed Ayman Mansour, Nabil Emad Donga, Mahmoud Abdel Rahim Gennesh, and Mahmoud Alaa.
The Confederation of African Football (CAF) announced in May the classification of the teams participating in the 32nd edition of the Africa Cup of Nations hosted by Egypt during the period from June 21 to July 19.
Twenty-four teams for the first time in the history of the competition will take part, and will be divided into six groups.
The first and second teams of each group will be qualified for the 1/8 final, in addition to the top four teams who came in the third place in each group.
Egypt came in the first classification along with Cameroon, Senegal, Tunisia, Nigeria, Morocco.
The Democratic Republic of the Congo, Mali, Côte d'Ivoire, Algeria, Ghana, and Guinea came in the second.
South Africa, Uganda, Benin, Mauritania, Madagascar, and Kenya came in the third.
In the fourth came Zimbabwe, Guinea Bissau, Namibia, Angola, Tanzania, and Burundi.
Edited translation from Al-Masry Al-Youm