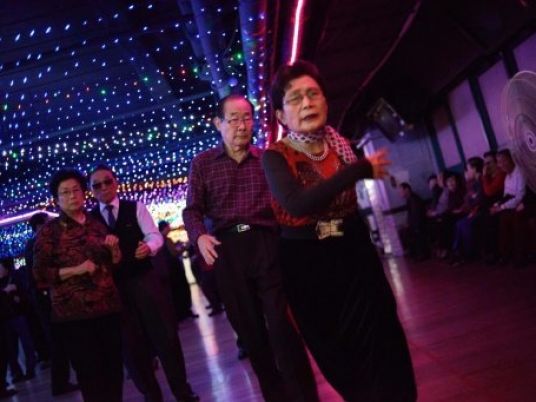 As the mercury outside plunges to minus 10 degrees on an ice-cold Monday afternoon, the dance floor inside the Kukilgwan Palace is packed with grey-haired Korean couples moving to the rhythms of high-volume disco.
"I come here every day of the week, except for Saturday and Sunday," said 81-year-old Jun Il-Taek as he danced beneath the giant disco balls and brightly-coloured string lights decorating the venue in central Seoul.
Jun was one of around 200 men and women on the floor — all engaged in the same, rather static, knee-bobbing dance routine, with the odd slow-motion twirl to liven things up.
The sedate nature of the dancing is in stark contrast to the decibel level of the music, which slowly envelops the ascending elevator as it approaches the ninth-floor dance club.
"Nothing keeps me healthier than dancing … I can't live without this place," Jun said, deftly leading his 75-year-old female partner into a slow turn.
The army veteran is one of thousands of retired South Koreans hitting the dance floors at "Colatecs" — special discos for the elderly that are flourishing across the country.
South Korea's rapidly ageing population may be a major headache for policymakers, but its members are determined to enjoy themselves, dancing the years away at clubs where 50-year-olds are turned away for being "too young."
From teens to OAPs
Colatecs first emerged in the late 1990s as dance halls for teenagers, where alcohol was banned and the only drinks on offer were sodas like Coca Cola.
But they soon fell out of fashion with their young clientele, which migrated to gatherings at Internet cafes and karaoke clubs.
And so the Colatecs rebranded themselves for an entirely different demographic.
"They became a playground for the over 60s … and they turned out to be far more loyal customers," said Lee Kwan-Woo, the owner of the Kukilgwan Palace which was established in the early 2000s.
"Here, they can exercise to stay healthy, make new friends and have a little bit of excitement," said the 70-year-old former nightclub singer.
South Koreans aged 65 plus make up 13 percent of the population, and that figure is expected to rise to as much as 40 percent by 2060.
Currently, half of that demographic live on or below the poverty line. A meagre pension and lack of social welfare make retirement a daunting prospect.
New-found leisure
Among those with some disposable income, leisure activity is something of an unknown field for a generation whose labour transformed the country from a war-ravaged backwater to Asia's fourth-largest economy.
"This generation spent all their lives working, working and working, and leisure was considered a privilege of the elite," said Hwang Nam-Hui, a researcher at the Korea Institute for Health and Social Affairs.
"So many find it hard, and even baffling, just to relax and enjoy themselves after retirement," Hwang said.
Kukilgwan Palace owner Lee says clubs like his offer a vital opportunity to "unwind and just have fun."
His venue attracts 800 visitors on a weekday and up to 1,500 at weekends. The entrance fee is cheap at 1,000 won (US$0.80). Most of the club's income comes from food and drinks.
The physical limitations of its elderly patrons are reflected in the noon-6 p.m. opening hours, which, Lee says, work well because most "feel too tired at night."
A well-stocked medicine cabinet contains remedies for a host of possible emergencies, including a sudden drop in sugar levels.
"If a regular suddenly stops coming, it usually means he or she has died," said Lee, who feels attending funerals of loyal customers is part of his job.
Turning away the under 60s
Many are widows or widowers looking for some company and mild flirtation, and anyone under 60 is turned away as they may "annoy other patrons and spoil the mood," Lee said.
The dress code is generally conservative, with men in pleated pants and blazers and women in dress pants or knee-length skirts.
Some women might risk a shorter hemline, or a bit of glitter, but for the men, a fedora worn at a jaunty angle is about as risque as it gets.
In what remains a very Confucian culture, elderly South Koreans are expected to behave with moderation and dignity, and Colatecs are frowned on by those who see them as unseemly hook-up joints for pensioners.
As a result, patrons like Han Keum-Ok, a 75-year-old Kukilgwan regular for the past 10 years, keeps her hobby a secret.
"My children and grandchildren think that I just meet my friends over coffee or lunch," said Han, who dances every afternoon away before returning home to cook dinner.
Han says the routine has kept her healthy and happy while many of her non-dancing friends have suffered depression or illness.
"At my age, you never know how long you will live, and I'd like to enjoy the rest of my life to the full.
"But I tell no one I come here because a lot of people think Colatecs are immoral," she told AFP.