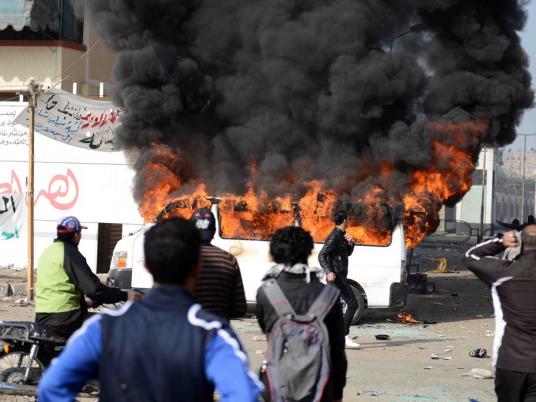 Unrest in the Suez Canal city of Port Said is at the top of the agenda for the local press Monday. Many media outlets also cover protests and strikes unfolding across the country as well as the appointment of the president's son to a well-paying position within the holding company for airports.
Port Said, a city at the northern entrance of the Suez Canal, has been simmering since a court in January sentenced 21 local youths to death over a riot following a football match last year that left 72 dead and hundreds injured. The city erupted into protests and clashes with security forces following the court's verdict, and police forces shot dead several other protesters.
Although President Mohamed Morsy declared a state of emergency including a curfew in Port Said, as well as in Ismailia and Suez, on 28 January, it has been widely ignored and violated.
"Port Said embarks on campaign of civil disobedience … Army inspects situation from aircraft," reads a headline in privately owned Al-Shorouk newspaper. Privately owned daily Al-Sabah reports: "Protesters close down governorate building, port, 126 factories, and obstruct rail traffic."
Another independent paper, Al-Tahrir, runs the headline "Port Said declares disobedience against Morsy" above an article that says, "Stores, the gates of the city's port, and the free trade zone have all been shut down in protest against Morsy's recent dictates."
Liberal party paper Al-Wafd reports, "Students boycott their classes, governmental bureaus are without employees, and shops shuttered."
State-owned Al-Ahram runs a headline blaming the city's Al-Masry football club and especially its hardcore fans for instigating the unrest, saying, "Ultras' agitation paralyzes Port Said." The paper claims the football fan club is forcing workers, employees, bus drivers, and shop owners to stop work across the city.
Privately owned Youm7 also reports more than 20 strikes in several governorates, some of which obstructed highways in Sinai, Monufiya the Red Sea and other governorates.
"Protests rock the governorates" reads a headline in Al-Tahrir. The paper says clashes have broken out between protesters and police in Mahalla, blocking of the Samanoud-Mansoura highway. In Gharbiya, the paper says, five Muslim Brotherhood members were freed after reportedly being briefly kidnapped and then "liberated by unidentified people."
Bakery workers in Sharqiya Governorate attempted to storm the governor's office, and medical workers in Monufiya blocked a local highway in protest against their working conditions and low wages, Al-Tahrir writes. Security forces in Alexandria reportedly used police dogs to attack striking cement workers as they were praying.
Al-Wafd reports on the same event with the headline "Crimes of the Interior Ministry: Police dogs used against striking Portland Cement workers in Alexandria." The article says police forces on Sunday morning stormed the company, where an estimated 450 workers were on strike.
"Workers jump out of company windows as police unleash dogs upon them, as they were performing dawn prayers," the party paper writes. Some 100 employees are being detained in an undisclosed location and interrogated by police. Dozens of others were injured in the raid, according to Al-Wafd.
In other news, the president's son Omar Morsy, a recent college graduate, makes front-page headlines in nearly every newspaper. Omar's appointment to a post at the Egyptian Holding Company for Airports and Air Navigation, with a hefty monthly salary estimated at LE 30,000, raised eyebrows and questions regarding nepotism within state institutions.
Youm7 reports Civil Aviation Minister Wael al-Maddawy as describing Morsy junior's employment as "a victory for the revolution." This paper also mentions that security forces were deployed en masse around the airport — in light of threats of protests against this "fishy appointment." Youm7 reports that 2,000 non-essential employees were told to stay at home during Omar Morsy's first day of work.
Al-Sabah reports on backlash against the appointment, saying hundreds of unemployed graduates with advanced degrees (Omar Morsy holds a bachelor's degree) protested outside Parliament on Sunday.
Al-Shorouk clarifies that Morsy's son has ended the controversy and declined the lucrative job following numerous complaints about "favoritism and presidential connections."
Omar Morsy is reported as saying "I pulled out as my father and family were being subjected to numerous rumors." Morsy's son argued that he was not being offered tens of thousands of pounds per month, but merely LE 900.
Egypt's papers:
Al-Ahram: Daily, state-run, largest distribution in Egypt
Al-Akhbar: Daily, state-run, second to Al-Ahram in institutional size
Al-Gomhurriya: Daily, state-run
Rose al-Youssef: Daily, state-run
Al-Dostour: Daily, privately owned
Al-Shorouk: Daily, privately owned
Al-Watan: Daily, privately owned
Al-Wafd: Daily, published by the liberal Wafd Party
Youm7: Daily, privately owned
Al-Tahrir: Daily, privately owned
Al-Sabah: Daily, privately owned
Freedom and Justice: Daily, published by the Muslim Brotherhood's Freedom and Justice Party
Sawt al-Umma: Weekly, privately owned
Al-Arabi: Weekly, published by the Nasserist Party
Al-Nour: Official paper of the Salafi Nour Party