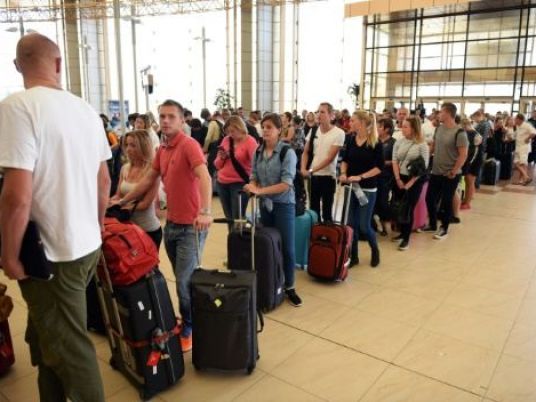 Three English airlines are preparing to organize flights to the Red Sea resort city of Sharm el-Sheikh as five European tourism companies begin booking tickets to the city, following the return of British tourism to Sharm el-Sheikh, sources at the Egyptian Holding Company for Airports and Air Navigation (EHCAAN) said Friday.
The first UK flight to Sharm el-Sheikh since the 2015 ban was lifted landed on Thursday afternoon at Sharm el-Sheikh International airport – ending a four-year hiatus after a bomb exploded on a Russian plane flying over Egypt's Sinai, killing all 224 people on board.
The ban was lifted according to an announcement made by the Chairman of the Board of Directors of the EHCAAN, Ahmed Genena on October.
According to the sources, a weekly flight from the Enterair company is scheduled to arrive from London, and 10 weekly flights will be operated by TUI fly at the beginning of the next summer season.
The head of the General Tourist Guides Syndicate, Hassan al-Nahla, said that the return of British flights to Sharm el-Sheikh is cause for joy as it unequivocally affirms Egypt's security and safety.
He pointed out that the rates of tourist movement have returned to how it was before 2010.
A representative of the World Federation of Tourist Guides Association in Egypt and North Africa, Wagih Gamal, said that Sharm el-Sheikh was established against an economic background based on tourism, with hotels, tourist villages, marine activities for tourists, and archaeological/historical tourist visits.
He added that after the Russian plane accident 2015, Britain was the first country to stop flights to Sharm el-Sheikh, and the return of English tourism provides credibility that the city has adequate safety for tourists.
According to Hamad Omar, a tourist expert and investor in Sharm el-Sheikh, the return of British tourism is a testimony to South Sinai's excellent security situation. He added that hotels and skilled workers should also be readily available.
Edited translation from Al-Masry Al-Youm