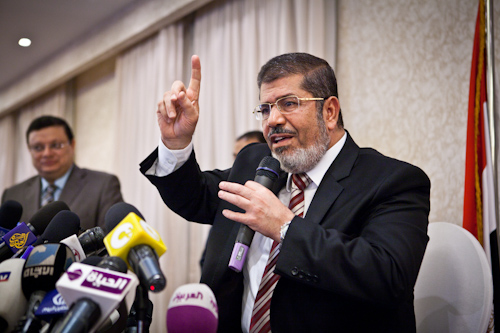 A political adviser of President-elect Mohamed Morsy said a Copt and woman would be appointed as vice presidents.
Ahmed al-Deif told CNN that it would be the first time in Egypt's history that a woman would be appointed to this position that will be granted powers.
"We didn't call for establishing an Islamic republic in Egypt. Morsy was very clear on this. He assured [he is] seeking a civilian constitutional country, a civilized one based on respecting cultures, principles and religions," he added.
Morsy confirmed in his first presidential speech that he will be "a president for all Egyptians" and committed to international agreements. He praised the armed forces, police, judges and victims of the revolution, which he said would be ongoing until achieving all its demands. He also added that people shouldn't obey him if he broke his promises.
He also called for unity so Egypt would live freely with dignity. "[The] people are the source of all powers. They suffered marginalization, poverty and injustice. It's time to retrieve their will and freedom, decent living and justice," he added.