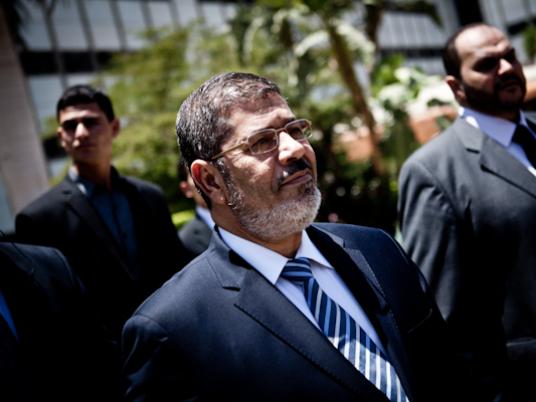 In his first public statement as Egypt's first elected president, Mohamed Morsy used Twitter to congratulate the Egyptian people, as well as to send his regards to the judiciary, police and army.
The tweet, posted at 4:50 pm on Sunday, stated, "A mark of honor and appreciation goes to Egypt's honest and just judiciary, as well as to the brave men of the army and police who protected the democratic process with complete honor. Congratulations to the people of Egypt"
The Muslim Brotherhood's candidate Mohamed Morsy, was announced the first president for Egypt's second republic, after the revolution of January 2011, by the Presidential Election Commission, Sunday afternoon.
Field Marshal Mohamed Hussein Tantawi, head of the Supreme Council of the Armed Forces, as well as Sami Anan, the council's vice president, congratulated Morsy for winning the presidency, after the commission announced the final result of the runoff in a press conference on Sunday.
According to the commission, Morsy won 13,230,181 votes, while Shafiq won 12,347,380 votes. Registered voters totaled 50,958,794, of whom 26,420,763 cast their votes. There were 843,252 invalid votes
Edited translation from Al-Masry Al-Youm