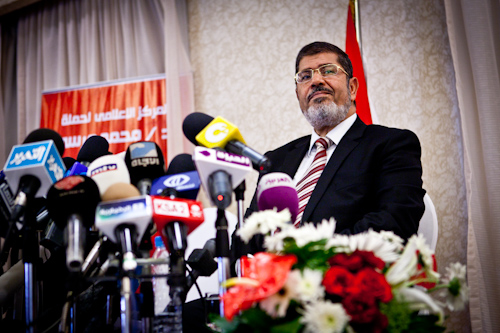 Muslim Brotherhood presidential candidate Mohamed Morsy dominated expatriate runoff-round voting in the Gulf nations of Saudi Arabia, Kuwait and Qatar, taking in 127,587 votes to his opponent Ahmed Shafiq's 29,287, according to an online statement from Morsy's campaign.
Mahmoud Auf, the Egyptian ambassador to Riyadh, was quoted in state-owned news agency MENA as saying Morsy won 74,070 votes in the capital to just 7,778 for Shafiq.
He added that 92,255 Egyptian expatriates voted in the runoff round of the presidential poll, noting 614 of those votes were invalid and 6,750 excluded.
The Morsy campaign statement went on to say that its candidate got 38,739 votes in Kuwait, while Shafiq took 18,382. In Qatar, the statement said, Morsy won 14,678 votes and Shafiq 3,127.
Earlier in the month, the Egyptian Foreign Ministry said around 310,000 Egyptian expatriates voted in the runoff.