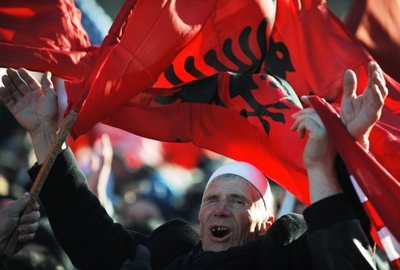 President Mohamed Morsy has said that Egypt is close to recognizing Kosovo.
The decision came during a meeting Sunday evening between Morsy and Albanian Foreign Minister Edmond Panariti, who is currently on an official visit to Egypt, according to a statement from the Egyptian presidency.
Pakinam al-Sharqawy, Morsy's assistant for political affairs, had said in February that Egypt's official diplomatic recognition of Kosovo was imminent.
Kosovo declared independence from Serbia in February 2008. Around 100 countries, including Turkey, the US and the European Union member states, recognize Kosovo's independence, while Russia, Belgrade's ally, rejects it.
The statement also said that talks between the two tackled "ways to support and develop bilateral relations, especially in economic and investment fields, in addition to the current situation in Kosovo."
Panariti said that Albania is anticipating a future visit by Morsy to promote bilateral cooperation, and also expressed the country's gratitude for providing scholarships to Albanian students.
Further details about the Panariti's visit, including the duration and his goals during the visit, were not available.