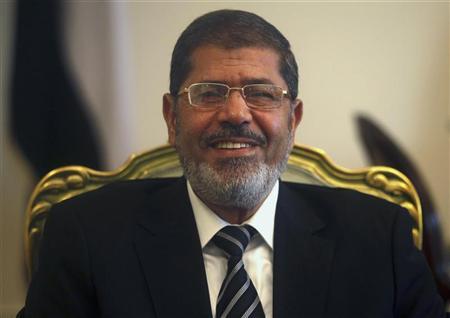 Egypt will continue to support Gaza against continued attacks rom Israeli armed forces, President Mohamed Morsy reiterated on Friday.
"The price will be high if the aggression continues," Morsy said after he performed Friday prayers in Fatma Al-Sharbatly Mosque in Cairo's Fifth Settlement.
"Egypt is different from yesterday," he added, referring to his predecessor ousted President Hosni Mubarak's soft stance on the Israel-Palestine conflict.
"We assure them [Israel] that the price will be high for continued aggression, and [we tell them] you have to bear the responsibility," Morsy continued.
During Morsy's speech, worshipers chanted: "Khaybar, Khaybar, Oh Jews, the army of Mohamed will return," in reference to a historical battle fought between Muslims and Jews in Saudi Arabia.
"I say to those on behalf of all the Egyptian people that Egypt today is different from yesterday, and Arabs today are different from yesterday. I say confidently that Egypt will not leave Gaza alone," Morsy said.
"We seek to be a protective shield for our Arab and Islamic nation," Morsy continue, adding that, "An official delegation has visited Gaza to express clearly our solidarity with the people of Gaza and state that what affects them, affects us."