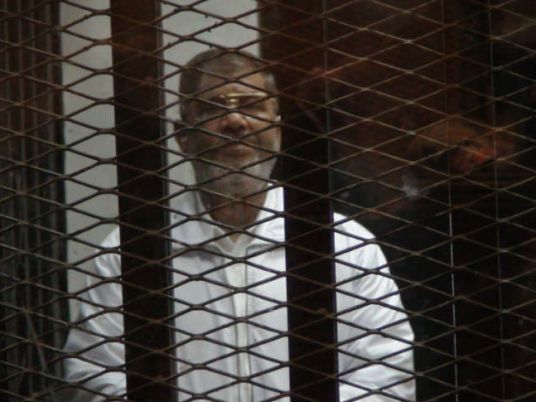 In order to hear eyewitness testimonies, the Cairo Criminal Court on Tuesday postponed to 23 April the trial of President Mohamed Morsy and 130 others accused of escaping from Wadi Al-Natroun prison during the 25 January 2011 revolution.
The court formed a six-member committee from the Cinema Institute to check whether the CDs in the case were tampered with in any way.
It also formed another medical committee to examine the medical condition of defendant Essam al-Erian in prison and assess how he and other prisoners are being treated.
The court was suspended on 24 February when defendants Mohamed al-Beltagy and Safwat Hegazy requested that the judge be replaced. Their request was overruled last Wednesday due to lack of justification.
The case currently consists of 26 defendants who are being detained pending trial, while the remaining are fugitives tried in absentia.
Among the remanded defendants are former President Mohamed Morsy, Mohamed Badie, the leader of the Muslim Brotherhood, his deputy Rashad Bayoumi, and Guidance Bureau members Mohamed Saad al-Katatni, Essam al-Erian, Mohamed al-Beltagy, Mohi Hamed and Safwat Hegazy.
Among the fugitives are renowned Islamic preacher Yousef al-Qaradawi, former Information Minister Salah Abdel-Maksoud, deputy leader of the Brotherhood Mahmoud Ezzat, Al-Qaeda leading figure Ramsey Muwafi (also the private doctor of Osama bin Laden), Al-Qassam Brigades (the military wing of the Palestinian Hamas movement) leading figure Ayman Nofal, as well as Mohamed Youssef Mansour, known as Sami Shehab, and Ihab al-Sayed Morsi, also known as Marwan, both from the Hezbollah.
Shehab was sentenced to 15 years in prison in April 2010 and Marwan to 10 years for forming a terrorist cell in Egypt.
Edited translation from Al-Masry Al-Youm