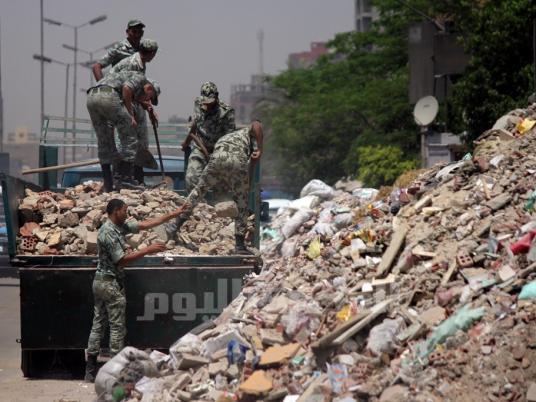 President Mohamed Morsy's Clean Homeland campaign is set to become an official institution that would work in partnership with the state and civil society "to oversee the beautification of the Egyptian street," said presidential spokesperson Yasser Ali on Monday.
He added that the institution would be formally established soon.
Ali said in a press briefing that the campaign was launched Friday and Saturday with the goal of creating "a nation that is clean from all types of corruption and negligence."
Over those two days, an estimated 107,000 volunteers from government institutions and civil society organizations removed 203,000 tons of construction debris and 120,000 tons of garbage from the streets of 22 governorates, Ali claimed, adding that in some areas volunteers removed debris that had been sitting in the street for up to five years.
Clean Homeland achieved 60 percent of its goals for the weekend, Ali said.
The campaign is not meant to be a radical solution to the nation's trash problem, Ali continued, but rather is intended to mobilize municipal governments to do their duty, as well as to encourage the principle of civic engagement. The campaign is also not meant to excuse corporations from their responsibility for cleaning up after themselves, Ali added.
The Freedom and Justice Party has supported the campaign, but other political parties call Clean Homeland evidence of the state's infrastructural failures.
The Popular Social Alliance Party said last week that Egypt's problems can't be solved with these sorts of campaigns, which it claimed are based on a "twisted" understanding of civic engagement and societal participation.
Edited translation from Al-Masry Al-Youm