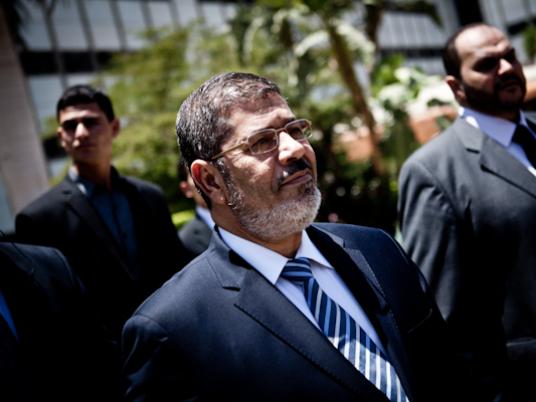 Twenty-two days into his rule as president, Mohamed Morsy's 100-day plan, which covers a wide range of issues, seems more unrealistic than doable for many.
A few days before facing off with Ahmed Shafiq in the second round of the presidential election, Morsy announced a plan promising to solve some of Egypt's most pressing problems during his first 100 days in office. The move added to the already-high expectations that Egyptians hold for their first post-revolution, civilian president. The day after his inauguration, protesters surrounded the presidential palace, maintaining the pressure on Morsy to deliver on his promises. But they also showed that the people need more than just a 100-day plan.
Unpacking his promised solutions, experts in the different fields Morsy has tapped into talk of the rather hasty propositions of Egypt's new president, who is seeking public approval through quick fixes that don't scratch the surface of deep-rooted problems.
Security
Ahmed Rabie, a 25-year-old newlywed mugged while transporting new furniture to his apartment, says he wants the new president "to make sure that such incidents are not repeated."
Morsy promised to restore "fair security" in the street and build trust between the citizens and police. Security has been a top priority for most Egyptians, given the rising crime rates that followed the retreat of the police after the outbreak of the uprising last January.
Some of the solutions in Morsy's plan include increasing police salaries, launching a media campaign to reconcile the police with the people, using additional tools such as helicopters and surveillance cameras in police work, having popular committees in neighborhoods assist the police, and training law graduates to take over some police tasks.
Sameh Saif al-Yazal, a former senior intelligence officer, sees Morsy's plan as both unrealistic and insufficient. "I'd be very surprised if his plan was realized or if security was restored in 100 days," says Yazal.
Yazal says Morsy's plan requires at least five years to solve and a large budget, unavailable now. It also overlooks some of the main security problems in Egypt, such as drugs and unlicensed weapons.
Traffic and transportation
Laila Shahin, a 60-year-old street tissue saleswoman, is optimistic that Morsy will alleviate one of her main sources of suffering.
"Transportation: because public transport is sparse for the amount of people who need it. I also want him to improve the roads," says Shahin.
Morsy promised to achieve smooth traffic flow in major cities.
His remedies for traffic include: allowing trucks on main routes only between 12am to 7am and confining road repairs to the same times, providing female-only public transportation, creating a traffic update service and building new parking lots near transit stations.
Police General Yousri Elrouby, a traffic expert, says that while Morsy's solutions may help improve the flow of traffic, they deal with the surface rather than the root of the problem.
"In 100 days, we can open the blocked channels in the street for the citizen to feel a difference, but to keep them open, we need a scientific plan," says Elrouby.
That scientific approach would include educating traffic officers, increasing drivers' awareness of traffic laws, ensuring that vehicles are well-maintained, and improving road planning, he says.
Sanitation
Hardly a matter of life and death, the inclusion of hygiene in Morsi's five priorities in his first 100 days raised some eyebrows.
The president suggests having Friday sermons that discourage littering, a hotline to report problems with garbage, and trash collection by both NGOs and national companies, in addition to other proposals.
Abdel Halim Kandil, a political expert at Al-Ahram Center for Political and Strategic Studies, says Morsy chose the issues in which improvement will be most easily noticed.
"He chose the things that are very visual, so that when an improvement is realized, people can feel it, because there are other problems that he can't solve, such as the economy and unemployment," says Kandil.
Fuel
The sight of cars lining up in front of gas stations has become common in recent months as a crisis in the availability of fuel inexplicably continues. As he stood in one such line, microbus driver Tamer al-Husseiny said he was sick of false promises to end the crisis.
"They keep saying they'll end the crisis, but the crisis has intensified now and become unbearable. We go everywhere to try to find gas now and it's so tiring. Sometimes the search goes on until 3 or 4 am," says Husseiny.
In his plan, Morsy promised to make all kinds of fuel available nationwide in 100 days, by collaborating with NGOs to make butane canisters available in every household, assigning trusted state employees to accompany fuel as it is being transported to stations to eliminate black market sales and dumping, and increasing penalties for fuel smugglers.
However, a crisis of inflation might curtail Morsy's propositions. With the on-going use of the country's reserves of foreign currency to buy up Egyptian money in the wake of declining exports and tourism revenues, fuel, alongside food, is expected to become more expensive.
Bread
To solve the problem of bread prices, which has increased in recent years, and its quality, Morsy suggests monitoring the weight and quality of the bread produced, separating production from distribution, giving incentives to encourage state employees to produce higher quality bread, and increasing penalties for those who don't adhere to weight and quality standards.
Taxi driver Mahmoud Abdel Azim is satisfied with the bread prices but not with the long lines. He has his own solution, though.
"I think the bread ovens should work more to eliminate the lines," he says. "Why don't they work 24 hours a day?"
Abdel Azim's suggestion might not be followed, but Morsy might be able to make some progress.
Nadeem Mansour, the executive manager of the Egyptian Center for Economic and Social Rights, says the solutions that Morsy suggested for the crises in bread and fuel distribution could be effective if he addresses corruption inside the relevant government authorities.
But Mansour adds that by choosing problems that were mostly orchestrated by the regime and relatively easily solved, Morsy has escaped addressing more deeply rooted social and economic issues.
On Saturday, the general department of mills and bakeries at the Federation of Chambers of Commerce has been asked to begin a study on setting the fixed price of bread at 10 piasters instead of five, according to the department head. The move could stir massive protests.
A version of this piece was originally published in Egypt Independent's weekly print edition.