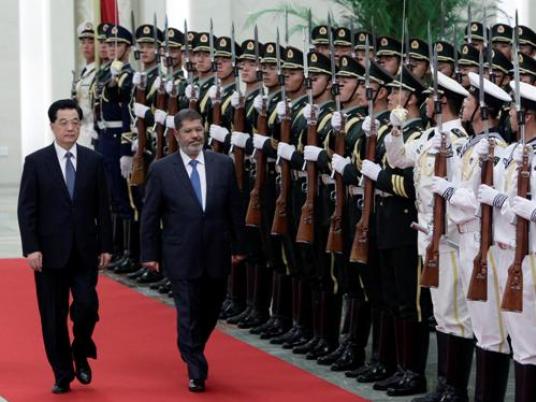 President Mohamed Morsy's trip to China this week was deemed intuitive by analysts, given a thriving trade connection between the two countries. But it also is an index of Morsy's reliance on the old regime's economic order.
A strong trade relationship with China is "very much an idea borne from the [Hosni] Mubarak regime, so it's representing the ongoing structure. The Egyptians and Chinese have been talking for several years," says Farah Halime, founder of the Rebel Economy website, who has been researching Egypt-China relations.
Bilateral cooperation increased to US$8.8 billion in 2011, up from $7 billion in 2010, unlike bilateral cooperation with other trade partners, which has decreased because of the turbulence amid Mubarak's ouster. China exports $7.2 billion to Egypt while $1.6 billion goes in the opposite direction.
Morsy is traveling with an 80-member delegation of businessmen headed by Muslim Brotherhood member and businessman Hassan Malek. Much of the delegation includes businessmen affiliated with the Mubarak regime and the defunct National Democratic Party because of their pre-existing ties in the area of Chinese trade cooperation.
Yet, according to analyst Shana Marshall, in one respect Morsy's visit does represent a break with Egypt's prior practice. "Whereas Mubarak usually planned his visits to coincide with multilateral summits that overshadowed his own individual meetings with Chinese leaders – no doubt in deference to the U.S. – Morsy made China the centerpiece of his travel agenda," Marshall told Egypt Independent. "But this isn't a Morsy-specific policy – it's just a reflection of China's enormous capacity for overseas investment."
"There's politics and there's economics in business, and in the case where there is a pre-existing relationship, it would be foolish to ignore it. Morsy is being strategic," says Deborah Brautigam, professor and director of the International Development Program at John Hopkins University.
The two countries are expected to sign eight different trade agreements in various sectors, such as electricity and water desalinization, according to Industry and Trade Minister Hatem Saleh.
"Historically, the relationship has been skewed in the direction of Chinese exports to Egypt, so these new discussions are more about cementing a long-term investment in Egypt from China. We're hearing that specific sectors will be ring-fenced for investments, such as solid-waste processing and industrial construction infrastructure. The Chinese do this everywhere — they're very good at putting money into huge industrial developments," Halime says.
However, Brautigam says it was more about targeting specific sectors rather than ring-fencing them.
"China takes this approach with other countries, where it works out areas of specific engagement that would interest both sides," she says. "The oldest trade and cooperation zone in Africa and one of the most longstanding worldwide is in Egypt, and originated in 1994 at the Egyptian government's request to China."
She says at this stage, Egypt needs foreign direct investment, and calls it a "good move."
Halime says that for China, the move has precedent.
"China is a country that is not political with its business decisions. It will invest in risky countries like Angola, Sudan and Libya, and it does that with the aim of building a footprint, but it will still be beneficial for the other side," Halime says.
"Looking at the figures, Chinese exports to Egypt have increased. Chinese officials were telling me that while investors from other countries remained in Egypt, they were hesitant and wary, but China continued its investment and exports," she adds.
There have been mutterings of possible military cooperation as well, in which China would provide Egypt with armaments. However, Ahmed Salam, media coordinator for the Egyptian Embassy in Beijing, refutes this, saying it obviously wasn't on the agenda because there were no military figures in the Egyptian delegation.
However, Halime points out that China has sent over hundreds of police vehicles to Egypt in a recent deal.
"That's a security investment. It may be indicative of further armaments investment," Halime says.
Brautigam explains that armament is an area of cooperation that China is interested in.
"For the arms exporters, it's the middle-income and low-income markets they target, because Chinese weapons aren't good enough to sell elsewhere, so Chinese armaments exporters are interested in expanding their business in these markets," she says.
This piece was originally published in Egypt Independent's weekly print edition.