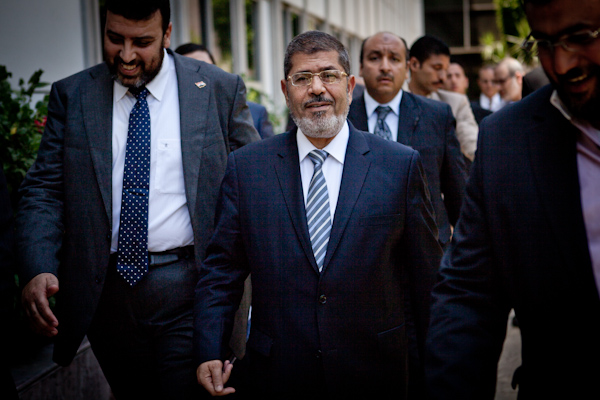 Yasser Aly, the acting media spokesperson for President-elect Mohamed Morsy, said it has not yet determined when or where Morsy will take the oath.
In statements to the state-run news agency MENA, Aly said that Morsy is still making consultations in this regard.
He added that the issue is being examined from a legal perspective and that dialogue is ongoing with national powers towards reaching a solution that upholds the law and satisfies the demands of national powers.
Regarding the ceremony that will be held to celebrate his appointment, Aly said Morsy does not want to hold a grand ceremony, and added that he believes the current conditions in Egypt require immediate work.
Since Morsy was announced the winner in the election, there has been much controversy over where Morsy should take his oath.
An article added to the Constitutional Declaration issued on 30 March stipulated that in the absence of a parliament, the elected president should be sworn in before the Supreme Constitutional Court.
A recent court ruling ordered the dissolution of parliament, stating that the law that oversaw its election was unconstitutional. The Muslim Brotherhood had a majority in the dissolved Parliament.
Taking the oath before Parliament would be seen as an implicit approval of the court order.
Maher Samy, vice president of court told Al-Tahrir newspaper that Morsy will swear the oath before the bench in conformance with the stipulation in the Constitutional Declaration.
However, Samy added that so far the court has not received any notification that Morsy is scheduled to take the oath there.