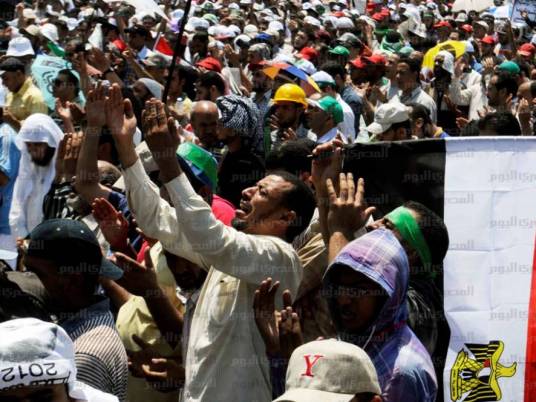 Hundreds of protesters supporting ousted President Mohamed Morsy flocked on Friday to Rab'a al-Adaweya mosque in Nasr City to take part in a sit-in that has been taking place for the last eight days.
Demonstrators staged marches heading towards Nasr road and Tayaran street, raising banners supporting Morsy. The banners read, "people support legitimacy" and "proud of my president." They also chanted slogans against Defense Minister Abdel Fattah al-Sisi.
Armed forces personnel are taking heavy security measures in areas surrounding the mosque and in front of the Unknown Soldier Memorial. They are checking the ID cards of all passersby.
Meanwhile, dozens of young people participating in the sit-in have formed popular committees at the gates leading to the sit-in. They are also checking IDs. Ambulances are parked nearby.
In related news, military jets flying over areas near the sit-in trailed colored smoke in the form of the Egyptian flag.
Some protesters are setting up a platform, while TV channel correspondents are flocking there to cover the events.