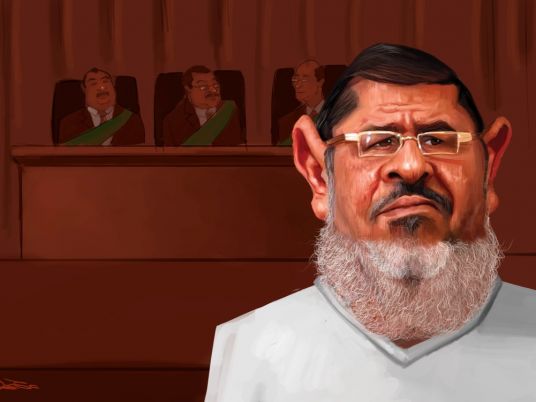 Amnesty International has called the trial of Mohamed Morsy a "test" for Egypt's interim administration, calling on the government to host a fair trial and provide the ousted president with rights of defense.
The Morsy trial was adjourned on Monday morning after chaos erupted inside the courtroom. State media reported that defendants standing trial chanted against "military rule," while a Reuters witness stated that Morsy stressed he was the sole legitimate ruler of Egypt and would not accept the trial.
Hassiba Hadj Sahraoui, Amnesty International's Deputy Director for the Middle East and North Africa Programme, said in a report published on Monday, that Morsy's trial "is a test for the Egyptian authorities."
She stressed that authorities should "grant him a fair trial, including the right to challenge the evidence against him in court," and warned that "failing to do so would further call into question the motives behind his trial."
The report noted that Morsy was denied access to lawyers during questioning and interrogation prior to Monday's trial. Sahraoui considered his "enforced" disappearance over the past few months "a serious human rights violation in itself [which] must be ended right away."
In its report, the rights organization demanded the release of Morsy or his transfer to a prison facility, making it possible for his family and friends to see him.
Morsy is standing trial on charges of inciting the murder of protesters outside the Ettehadiya presidential palace in December 2012.
Edited translation from Al-Masry Al-Youm