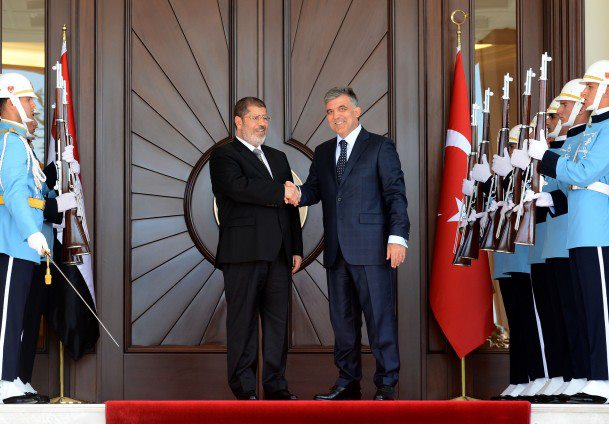 The border crossing between Egypt and the Gaza Strip will remain open, President Mohamed Morsy told the general conference of Turkey's Justice and Development Party (AKP) Sunday.
"Egyptians can never stand by helplessly when they see the people of Gaza under siege," Morsy said in remarks broadcast on Egyptian state television. "The border crossings between us and Gaza will remain open to fulfill the needs of the people of Gaza, including food, medication, education and communication between families."
Leaders present at the conference included Kyrgyz President Almazbek Atambayev, Masoud Barzani, president of Iraq's autonomous Kurdish region, and Khaled Meshaal, head of Hamas, the resistance movement that governs the Gaza Strip.
Morsy, in the midst of a 12-hour visit to Turkey, stressed that the Egyptian leadership "looks forward to the establishment of a Palestinian state by the will of the Palestinians, and with Jerusalem as its capital.
He added that the Egyptian and Turkish people seek to support and assist nations that desire freedom from dictatorship, such as in the Palestinian territories and Syria. He told the conference that a quartet of regional powers — comprising Egypt, Iran, Turkey and Saudi Arabia — would continue to push for a solution to the Syrian civil war.
"We will not be calm, we will not settle down until this bloodshed stops and until the will of the Syrian people to choose their own leader is realized," Morsy said.
In his own speech, Turkish Prime Minister Recep Tayyip Erdogan trumpeted Turkey's status as a rising democratic power, saying that his Islam-rooted ruling party has become a positive example for the Muslim world after a decade in charge.
Under Erdogan's control, the AKP has won three consecutive landslide election victories since 2002, ending a history of fragile coalition governments punctuated by military coups and marking Turkey's longest period of single-party government in more than half a century. Per capita income has more than tripled in that time period and Turkey has established itself as a regional power, with some allies viewing its mix of democratic stability and Islamic culture as a role model in a volatile region.
In part of his speech, Morsy said that the world admires the achievements of the Turkish people, led by the AKP. He also said that post-revolutionary Arab countries need Turkey's support.
Morsy thanked Turkey for its support for the Egyptian revolution, noting that Turkish President Abdullah Gul was the first president in the world to visit Egypt to congratulate its people a few days after Mubarak resigned.