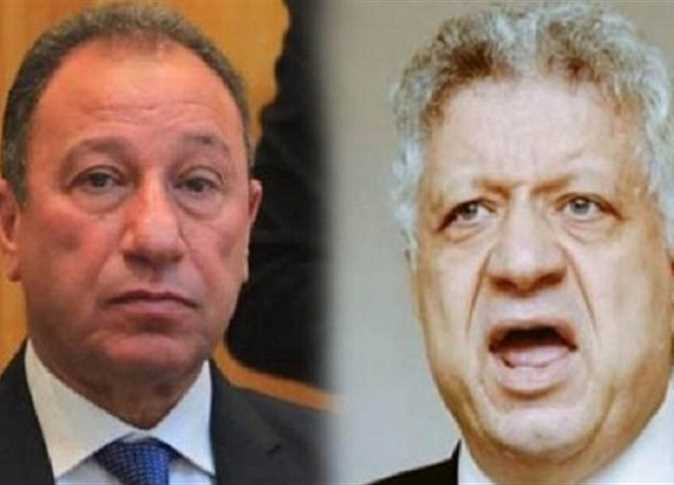 President of Zamalek Club Mortada Mansour called for a reconciliation between him and Al-Ahly President Mahmoud al-Khatib, and asked Khatib to turn a new leaf after the recent disputes between the two parties reached the courts.

"I did not mean to insult Mahmoud al-Khatib, and I respect his family, and he attended the wedding of my sons Amir and Ahmed," Mansour told Youm7 newspaper.
"I hope to end the disputes. Mahmoud al-Khatib is the best football player in the history of Egypt, and the disagreements between us must end for the interest of Egyptian football," he added.
"For my part, I bear no grudge, and I hope that all disputes between us will end for the sake of the public interest," he said.
Earlier, the Economic Court in Cairo sentenced Mansour to one year in prison and a fine of LE100,000, after Khatib filed a lawsuit against Mansour for slander on social media.
But Mansour filed an appeal and the Economic Court recently set a hearing on July 6 to rule on the appeal.
Mansour recently appeared in a video clip posted on his official Facebook account in which he confirmed his refusal to allow the Zamalek football team to take part in any match in the Egyptian league, before Al-Ahly club has played all its postponed matches in the competition.
Al-Ahly had previously requested that Zamalek play all its postponed matches in the league, and its request was met, Mansour said, stressing that Zamalek will not play any match until Al-Ahly plays its postponed matches.
The Zamalek-Ahly match in the Egyptian Premier League  is scheduled on June 19.
Zamalek leads the standings of the tournament with 44 points after playing 20 matches, while Al-Ahly occupies third place with 37 points after playing 16 matches.