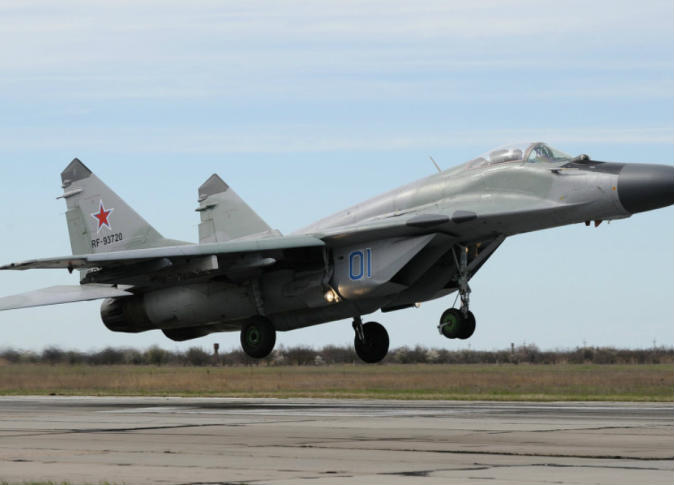 Russian websites have said Russia has approved a contract with Egypt to sell 46 Russian MiG-29 fighter planes that will be signed shortly. The total value of the deal is US$2 billion, the largest demand for this model since the collapse of the Soviet Union, according to the Moscow Times , citing sources working in the Russian aviation industry.
The paper also said Washington suspended the sale of arms to Egypt after the overthrow of President Mohamed Morsi, who was affiliated with the Muslim Brotherhood, in July 2013.
The newspaper pointed out that Egypt has since considered other suppliers for its military needs, including Russia, adding that Egypt bought the Russian advanced anti-aircraft missile defense system S-300 for $500 million last year.
The MiG-29 was launched for the first time in the 1970s to compete with the F-15 and F-16 American fighter aircrafts, said the Moscow Times.
The Russian Sputnik News quoted the aircraft company's CEO, Sergey Korotkov, as saying in February that his company is willing to provide Egypt with the MiG-35, the latest generation of Russian fighter jets.
The agency pointed out that, according to the Military Balance Report, an annual assessment by the International Institute for Strategic Studies on the military capabilities of 171 countries around the world, Egypt currently relies on American F-16 fighter jets, French Mirage 2000 fighter jets, Russian MiG-21 fighter jets and a Chinese make of the MiG-21 planes.
It said the MiG-29 is likely to replace the older MiG-21, and that Egypt and Russia will witness more technical cooperation, as Russia began sending Egypt anti-aircraft defense systems in March.
The MiG-29 carries six air-to-air R-73 and R-60 missiles and a 30 mm caliber cannon. It is considered a multi-function aircraft designed to carry out tasks in the air and on the ground.
Edited translation from Al-Masry Al-Youm