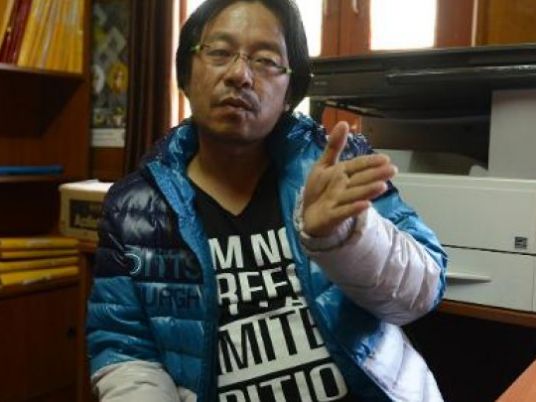 When Bhutan's top director Tshering Wangyel finishes a film, he and his staff take to the Himalayan countryside for months at a time armed with a projector, tent, screen and tickets.
Movie making in the isolated kingdom is strenuous business. Not only do you have to teach yourself the filmmaking basics, but you must lug a makeshift cinema from village to village to reach Bhutan's movie-loving population.
Despite the lack of infrastructure, Bhutan's 25-year-old industry is thriving, with audiences in one of the most remote countries on earth flocking to homegrown movies that blend Bollywood with traditional Buddhist teachings.
"Currently, it takes us a year to cover the country for screenings. I used to do it myself all the time, now I send my staff," Wangyel told AFP in the capital Thimphu.
"Last year, my boys took a car, a screen, a tent, a projector, tickets – they went from district to district, setting up a makeshift cinema in each venue or using school auditoriums."
Many of the industry's directors and actors also have to juggle their passion for cinema with day jobs as soldiers, monks, even politicians.
Wangyel began his career in government, but the avid Bollywood fan, who grew up in a country where Indian musicals were a staple, always had movies on his mind.
"I was living this mundane 9-to-5 life when I decided to make my first film: a love triangle about two college kids falling for the same girl," Wangyel said.
Three of his friends acted in the 1999 production and contributed $5,000 each towards the shoestring budget. Wangyel, then an official in the ministry of agriculture, wrote the screenplay and handled the camera, sound and lighting.
He also made Bhutan's first musical number, lifting the melody from a popular Indian film and convincing his cousins to serve as backup dancers.
He released the flick, "Rawa" (Hope), in Thimphu's only cinema, the crumbling, rat-infested Lugar, currently under renovation.
By the time he made his second, he realised that while production was a challenge, distribution was an ordeal, requiring filmmakers to carry generators, fuel and screening equipment from village to village.
Forty movies later, he says distribution continues to be a slog, handicapping the industry's growth.
The long wait for screenings has also fuelled a thriving piracy industry, with impatient audiences eager to watch illegal copies of the Dzongkha-language films.
Despite these challenges, however, the industry has expanded substantially, with annual output jumping from three films a decade ago to 15 films this year.
– Bollywood influence –
Each year, it attracts new entrants like aspiring director Killey Tshering, who turned a friend's bungalow into a film set and secured funds from a cousin, all to make his debut venture, "Nga Dha Choe" (You and Me).
"Filmmaking in Bhutan is a community enterprise — friends lend their houses, relatives give you money, everyone helps out on set," Tshering, 27, told AFP on the sidelines of his shoot.
The popularity of local films has seen fans give the boot to Bollywood productions, which are rarely shown these days in Bhutan's handful of cinemas after dominating screens for decades.
However, the influence of the Mumbai-based industry on its Bhutanese counterpart is unmistakable.
Although a small number of Bhutanese films, including 1999's "The Cup", directed by a Tibetan Buddhist lama, have found critical and commercial success overseas, viewers at home prefer movies with a dose of song and dance.
"If a film is too artistic or realistic, it won't work. Our audiences like a formula – it must include songs, dances, humour and tears," Wangyel said.
Critics blame Bhutan's isolation, which only allowed access to television in 1999, and its limited exposure to world cinema for the formulaic but commercially successful productions.
"The sad part is we say we are so proud of our culture but then you look at our films, it's like we have picked up a broken piece of mirror from Bollywood's vanity case," said independent filmmaker Tashi Gyeltshen.
But with movies based on Buddhist legends and actors usually dressed in traditional clothing — the wrap-around "gho" for men and fitted ankle-length "kira" for women — Bhutanese cultural identity lies at their heart.
Plotlines often portray a clash between tradition and modernity, with conservatism getting the last word as characters hold forth on the importance of prayer and background chants urge viewers to be good Buddhists.
Gyeltshen, whose short film "The Red Door" screened at the Rotterdam film festival this year, told AFP the relentless push to promote tradition while imitating Bollywood formula risked creating "a cultural desert" for future generations.
"We are wallowing in past glory…we are not creating anything in terms of leaving a legacy," Gyeltshen said.
"Everyone in Bhutan talks about the preservation of culture – but if you don't create, what will you preserve?"