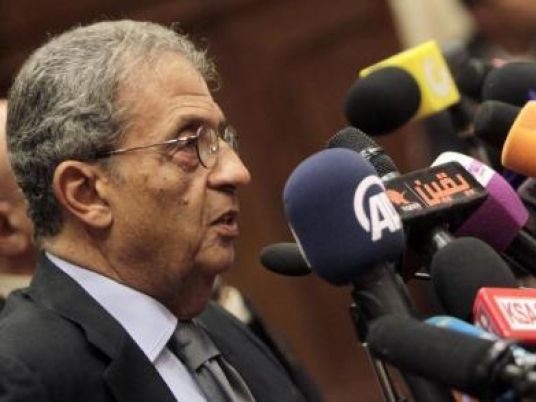 In his meeting with Faculty of Economics and Political Science students at the Shura Council on Wednesday,
Constitutional Committee Chief Amr Moussa denied allegations of counterfeiting the draft constitution.
Moussa said the rumors of counterfeiting are mere slander, adding that the constitution was read article by article in a public session with the 50-member panel in attendance. The articles voted on were the same ones included in the constitution, he emphasized, noting that everything was recorded through audio and video.
He described the controversy as "confusion" based on people not reading the draft. He called on everyone to read it, explaining that Egypt is at a crucial stage that requires understanding how to move forward. "We want to get Egypt out of the plight it has been through," Moussa said. "A stable stage with president and parliament should be reached in order to be able draw social and economic plans, since it's hard to do so today."
"Articles on prime minister and house of representatives in constitution put a limit to dictatorship. Powers granted to the president are not the powers of a dictator as he leads coordination between authorities and forms the cabinet in a way that doesn't offer any person powers that would make him a dictator, like what happened under [deposed president] Mubarak," he added.
Moussa noted that the draft constitution deals with Egyptian people, who live in the 21st century and not before that, so Egypt will not remain stuck in the past. He also emphasized the unprecedented rights and freedoms in the constitution, as well as freedom of scientific research and intellectual property granted by law.
Women in the constitution will occupy senior positions, he said, adding that women will join the judiciary after voting on the constitution according to the president's remarks.
Egyptians will vote on whether to approve the amended constitution on 14 and 15 January across all governorates.
Edited translation from Al-Masry Al-Youm