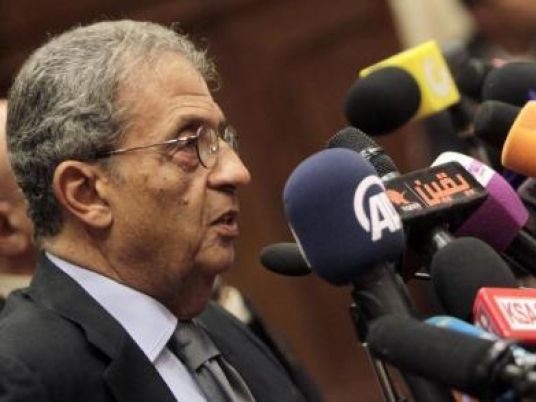 Former head of the 50-member Constitutional Committee Amr Moussa said that electing Field Marshal Abdel Fattah al-Sisi, the defense minister, as president of Egypt "will not bring back military rule."
Moussa told a Saudi newspaper on Monday that Sisi would run for presidency "in the light of the civil state and in the light of the new constitution."
"There is an important difference that there is a constitution for a civil state, and there is an awareness in Egypt that we want to take the right track, so we give priority to the application and implementation of the new constitution, and the consolidation of democracy and state institutions."
"I think that when Marshal Sisi runs and once elected president, he will take the same path." Moussa noted that he would back Sisi in the election.
On the fears that the National Salvation Front may see splits if Hamdeen Sabbahi runs for presidency, Moussa explained, "the Salvation Front was established to overthrow the regime of former President Mohamed Morsy, especially after the Constitution Declaration of 22 November."
"NSF includes a large number of parties, and could be a framework of alliances, but it does not have a presidential candidate in its name, and I see that the majority in the NSF support Sisi."
On the idea of forming a presidential team including Moussa, Sabbahi, Sisi and current Interim President Adly Mansour, Moussa said that this is in the hands of the new president, if he wants to have a board of advisors, he can. The next president cannot have a vice president however, since that's not listed in the new constitution.
Edited translation from Al-Masry Al-Youm