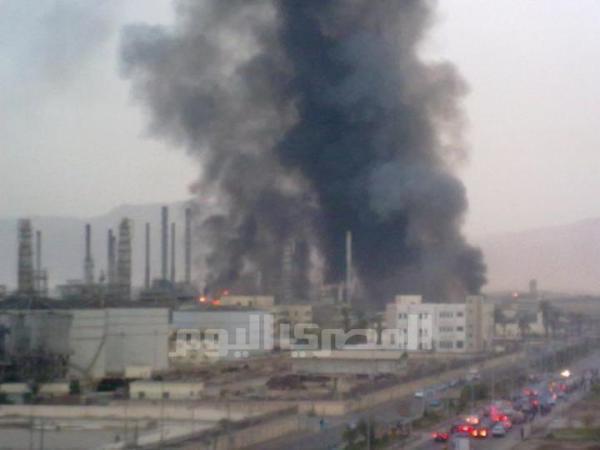 The head of the Parliament Human Rights Committee on Thursday called for the formation of a fact-finding committee to investigate the cause of a fire at a state-owned petroleum company in Suez that raged for four days earlier this week.
In a press release on Thursday, MP Mohamed Anwar Sadat said the accident would not pass by without question, noting that fire extinguishers at the factory were not working. He also mentioned the absence of safeguards or security cameras.
He also added that frequent accidents like this and the Port Said football violence indicate a scheme targeting vital places in the Suez Canal zone.
Several Egyptian governorates were suffering from a shortage of gasoline and diesel fuel on Wednesday in the aftermath of the fire. Dozens of taxi drivers in Minya Governorate blocked railroad tracks there for the second consecutive day in protest of the shortage.
Vehicles lined up in front of gas stations in Daqahlia, Sharqiya, Suez and Port Said governorates Thursday, and owners of small businesses in 6th of October City warned against a continuation of the crisis and its potential effect on Egypt's industrial sector.
The Supply and Domestic Trade Ministry has been notified by the Petroleum Ministry about the fuel shortage. However, government sources said the supply ministry would not be able to resolve the shortage over the next few months as it only plays a monitoring role.
A meeting between officials of the two ministries and the central operations department of the military is expected to take place soon regarding the crisis.
On Wednesday, members of the Shura Council accused the government of negligence and said it was responsible for the Nasr Petroleum Company fire. They demanded that the cabinet resign.
However, Petroleum Minister Abdullah Ghorab has said the fire has not affected the amount of diesel fuel on the market.
This article is an edited translation from Al-Masry Al-Youm