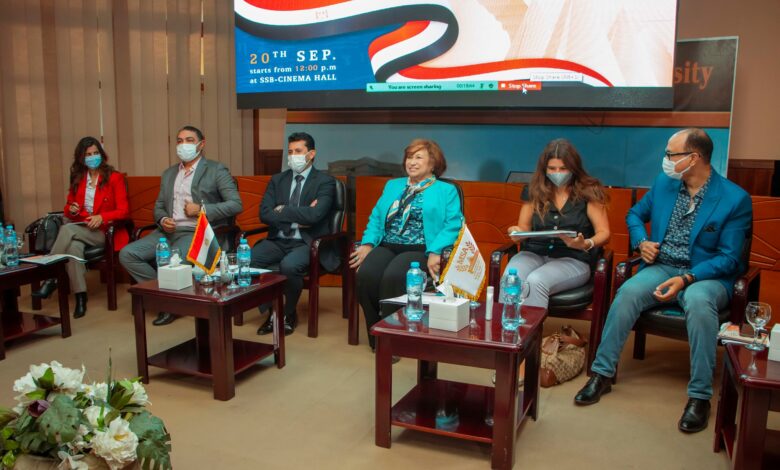 In the presence of Youth and Sports Minister Ashraf Sobhy, and representatives from the Ministry of Planning and Economic Development and the Ministry of Tourism and Antiquities, the October University for Modern Sciences and Arts University's (MSA) Faculty of Mass Communication organized its second annual media conference titled "Egyptian Features".
The event was attended by Chair of the Board of Trustees of the University Nawal al-Degwy, coinciding with the celebration of graduation projects by students of the Faculty of Mass Communication
The graduation projects highlighted authentic Egyptian personalities and places, including Nuba, through modern media including documentary films and various programs.
The conference was attended by Dean of the Faculty of Mass Communication Amany Fahmy, and head of the Sustainable Development Unit, on behalf of Planning Minister, Mona Essam, Assistant Minister of Tourism and Antiquities Lamia Kamel, producer Hisham Suleiman, director Amr Abdeen,
The Executive Director of the Arabsat Regional Office Mona Murad and other media personalities attended via video conference.
In her speech, Degwy said that these graduation projects are characterized by a futuristic outlook and aim to provide scientific and research services to the Egyptian society to create a positive impact.
Degwy told Egypt Independent that universities, especially journalism and mass communication faculties, should intensify efforts to employ the enthusiasm of students and their innovative ideas as a soft power tool for promoting Egypt's tourism, culture, and other positive aspects that will enhance its global reputation.
Young people should be taught that their role is essential in making a difference in society.
Subsequently, universities must to instill these conceptualizations in students' minds by providing well-articulated curricula, she stressed. If these values are not educated at a young age, they would grow up suffering from a loss of identity and lose sight of the necessity of making contributions to society.
Sobhy, meanwhile, said that caring for youth is a priority of the Ministry of Youth and Sports, as part of the state's strategy to empower them in all fields and walks of life.
He pointed out that 60 percent of Egypt's population is young people of working age, unlike many other countries that suffer from an imbalance in their demographic structure.
Investing in human resources is one of the most important investments to achieve progress in a state, he said, stressing that Egyptian youth and women have the focus of empowerment efforts by the state.
Youth also play an important role in media by spreading beneficial topics to society, and by preserving the social unity of the society through written and audible words in media, he added.
The state is keen on human investment, and on supporting and empowering young people, through many programs and projects, which are in line with Egypt's 2030 Vision, Essam said.
She pointed out that the Ministry of Planning and Economic Development works to improve the business structure to achieve sustainable development goals.
The Ministry of Planning and Economic Development launched a number of initiatives for youth, including the "One Million Egyptian Entrepreneurs" project, and vital investment in education projects, in light of the state's effort to achieve digital transformation, Essam added.
Kamel added that nearly one million people are directly employed with the tourism sector, and about two million indirectly.
She added that the tourism sector is one of the vital sectors in Egypt that need to be promoted by all Egyptians.
According to Kamel, media has an important and vital role in conveying a positive image of Egypt, especially on social media.