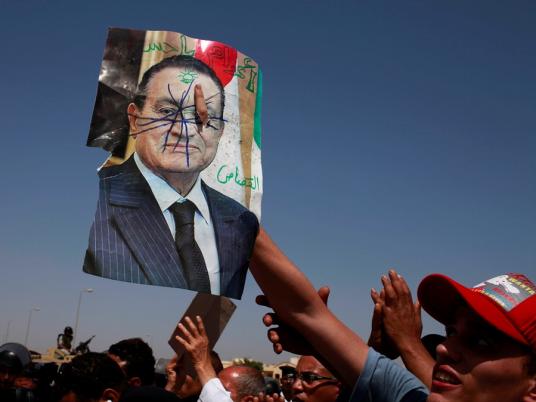 Egypt's state prosecutor on Thursday cleared ousted leader Hosni Mubarak for conditional release from prison while he stands trial, judicial sources said.
The prosecutor's office informed the Interior Ministry's Prisons Authority that Mubarak could be released after judges ruled he could no longer be imprisoned during his retrial on corruption and murder charges. The decision was made after determining that Mubarak was not wanted on any charges other than the ones he is standing trial for, meaning he could be released later on Thursday.
His lawyer had contested his detention, arguing that the maximum period for pre-verdict detentions had expired and that Mubarak had paid back the money involved in one of the cases.
A medical helicopter then carried Mubarak to the Maadi Medical Hospital Thursday afternoon from Tora Prison where the former leader had been held in custody pending multiple trials.
Prime Minister Hazem al-Bebalwy, however, ordered Mubarak to be put under house arrest as part of the month-long state of emergency declared last week.
Mubarak was convicted last year of corruption and complicity in the murder of protesters during the uprising that forced him to resign in early 2011.
An appeals court ordered a retrial on technicalities.