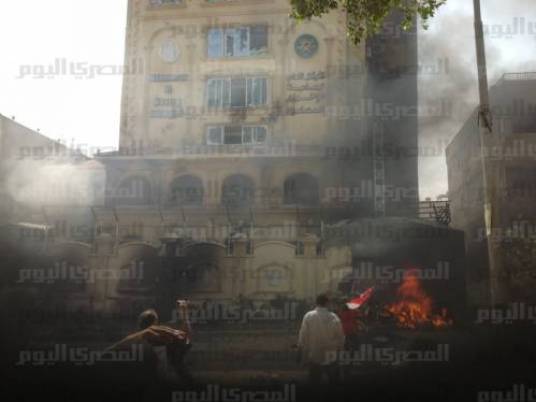 A group of protesters stormed the headquarters of the Muslim Brotherhood's Freedom and Justice Party (FJP) in Shebin al-Qanater, Qalyubiya, on Monday.
Following a brief siege, demonstrators vandalized the FJP building and removed the official sign outside before storming the compound.
Shebin al-Qanater has witnessed massive demonstrations and rallies, with marchers chanting slogans condemning President Mohamed Morsy and the Muslim Brotherhood.
Also on Sunday, anti-Morsy protesters stormed Muslim Brotherhood and FJP headquarters in Sharqiya and Gharbiya in the Nile Delta, and Assiut in Upper Egypt.
An all-night siege of the Brotherhood's Guidance Bureau building in Moqattam in Cairo saw protesters set fire to and storm the building before ransacking it.
Eight people died during the clashes outside as pro and anti-Brotherhood elements exchanged Molotov cocktails and cartouche fire.
Edited translation from MENA