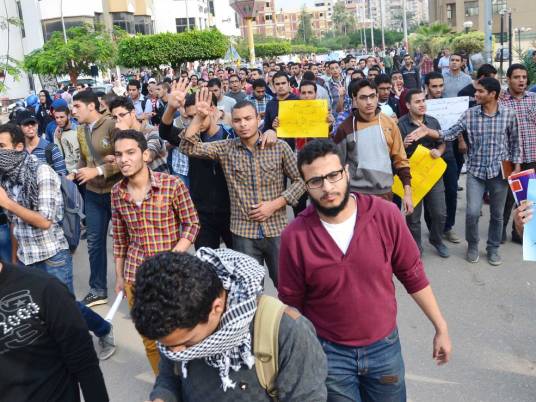 A source from the Muslim Brotherhood told
Al-Masry Al-Youm
that the National Alliance to Support Legitimacy has prepared
"
surprises
"
at referendum committees
to disrupt the referendum, and to stage a sit-in in Tahrir Square.
The source, who wishes to stay anonymous, said that pro-Muslim Brotherhood students at Cairo and Al-Azhar universities will try to protest in Tahrir Square Monday evening and raise images for toppled President Mohamed Morsy and Rabaa signs.
The source added that crowds will come suddenly from Ramses and the Abdel Moneim Riad streets and Qasr al-Nil Bridge, on Tuesday afternoon, to start an open-ended sit-in in Tahrir, beside besieging referendum committees.
Leader of the National Alliance to Support Legitimacy Mohamed al-Qoddousy said the Muslim Brotherhood agreed with other anti-military rule and revolutionary forces in a meeting that lasted for seven hours to seize the opportunity as the security forces will be preoccupied with the referendum. He added they had innovative means to fail the referendum.
"What we have agreed on will be remembered globally and immortalized in human history," Qoddousy wrote on his Facebook account.
Qoddousy warned voters saying the response of the security forces to protests at committees may harm them.
"Staunch your blood, we promise to be peaceful, but we cannot ensure what the criminals might do as they would have no other choice but to attack everyone," Qoddousy wrote.
The National Alliance leader and head of the Fadila Party Mahmoud Fatehy said current protests were not enough to bring down the regime. He added that the alliance plans to escalate its protests to overburden the security forces and bring down the draft constitution.
"We are well aware that the deep state had acquired immunity from peaceful demonstrations after a long experience since January 25 and the next revolutionary moves will be influential and painful to the body of state and head of the coup," Fatehy added.
Edited translation from Al-Masry Al-Youm