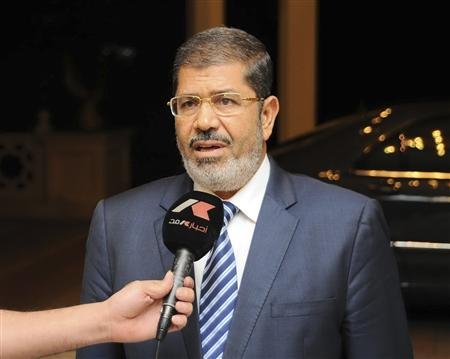 "Months of achievements…President Morsy builds Egypt anew," published by the Muslim Brotherhood, intends to lay out the achievements of Morsy and those around him.
A source told Al-Masry Al-Youm that the book is only being distributed to young members of the Brotherhood.
The 124-page book, divided into five chapters, is authored by Reda al-Masry, an educational expert and the writer of several educational articles on the Brotherhood and other Islamic websites.
The book lists the achievements made by Morsy after nine months in power but the print house is not made clear.
Masry said he wrote this book because the media have been smearing Morsy's image. " The recognition Morsy gets at the popular, regional and international levels causes envious people inside Egypt to seek to tarnish his image."
The writer added that, "Morsy is Egypt's first elected president, first civilian president, first bearded president and the first whose convoy does not paralyse traffic."
"He is the first to allow a veiled female presenter to appear on TV in 52 years and the first president whose son gets less than 90 percent in Thanaweya Amma," he goes on. "He is also the first Arab civilian president to challenge the military and the first Arab president to sue his enemies."
The book starts by enlisting Morsy political achievements, which include ending the rule of the military and retrying the killers of the 25 January revolutionaries. The president is also credited with adopting teamwork as opposed to individualism in his way of working.
Among the political achievements listed are the dismissal of former Prosecutor General Abdel Meguid Mahmoud. Masry defended the decision to remove Mahmoud, citing his failure to bring killers of protesters during the revolution to justice.
With regard to the security arena, the book suggests that Morsy gave bonuses and promotions to policemen and tied these to the restoration of security and citizen satisfaction with their performance.
The writer also describes the endorsement of the Constitution as the greatest achievement for Morsy, saying this caused Israel dismay.
The book also claims that foreign policy under Morsy has seen a shift, mentioning in particular his support for Gaza and the fact that Israel lost 2.5 billion shekels because of the Palestinian resistance rockets.
He also said that despite attempts by the opposition to spoil the work of the Constituent Assembly, it was successfully completed.
The writer compares Morsy's image in the Egyptian and Western media, adding that Western media see him as a leader, and citing Time magazine cover featuring his photo and describing him as the most important man in the Middle East.
"This is how the Western media deals with Morsy, while the Egyptian media is uniting to bring down the elected president."
Edited translation from Al-Masry Al-Youm