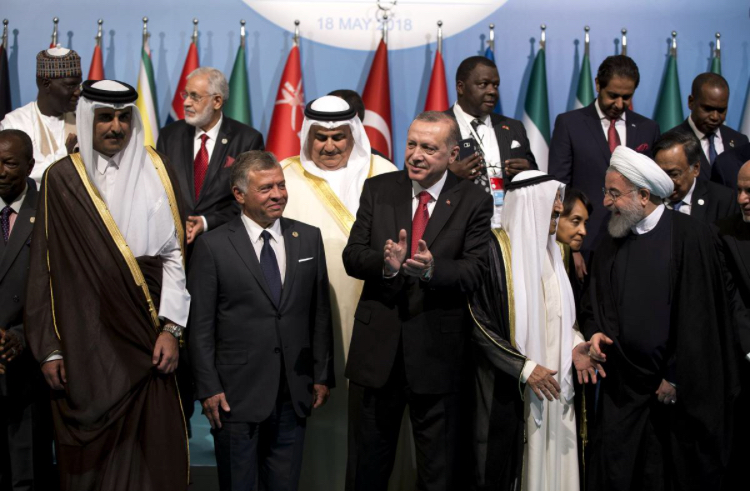 Muslim leaders called on Friday for an international force to be deployed to protect Palestinians after dozens of protesters were shot dead by Israeli forces on the Gaza border this week.
At a special summit in Turkey convened by President Tayyip Erdogan, they also pledged to take "appropriate political (and) economic measures" against countries that followed the United States in moving their Israel embassies to contested Jerusalem from Tel Aviv.
Erdogan, who is campaigning for re-election next month, used the summit to verbally attack Israel, comparing the actions of its forces to Nazi Germany's treatment of Jews in World War Two, when millions were killed in concentration camps.
He also castigated the United States, saying its decision to move its embassy had emboldened Israel to put down the protests at the border with Gaza with excessive force. Most countries say the status of Jerusalem – a sacred city to Jews, Muslims and Christians – should be determined in a final peace settlement between Israel and Palestinians and that moving their embassies now would prejudge any such deal.
U.S. President Donald Trump's step to recognize Jerusalem as Israel's capital and move the embassy there reversed decades of U.S. policy, upsetting the Arab world and Western allies.
Guatemala this week became the second country to move its embassy to Jerusalem, and Paraguay said it would follow suit this month.
The final declaration of the meeting of the 57-member Organisation of Islamic Cooperation described the killing of 60 Palestinians, protesting the embassy move on Monday, as "savage crimes committed by the Israeli forces with the backing of the U.S. administration".
It said the violence should be put on the agenda of the U.N. Security Council and General Assembly, and called on the United Nations to investigate the killings.
The summit was attended by Jordan's King Abdullah, a U.S. ally whose Hashemite dynasty is custodian of Muslim sites in Jerusalem.
Abdullah said the U.S. decision five months ago to recognize Jerusalem as Israel's capital had "weakened the pillars of peace … and deepened the despair that leads to violence."
Iran's President Hassan Rouhani called on Muslim countries "to totally cut their relations with the Zionist regime (Israel) and also to revise their trade and economic ties with America".
A populist with roots in political Islam, Erdogan has described Israel as "terrorist state".
"The children of those being subject to all sorts of torture in concentration camps during World War Two are now attacking Palestinians with methods that would put Nazis to shame," Erdogan said on Friday shortly after addressing a rally of thousands of people in support of Palestinians.
The United Nations must send "an international peace force to the people of Palestine, who are losing their young children to Israeli terror every day," Erdogan said, comparing the proposed deployment to peacekeeping forces sent to Bosnia and Kosovo in the 1990s.
The violence in Gaza led to Turkey and Israel expelling each other's senior diplomats this week. Erdogan has also traded barbs on Twitter with Israeli Prime Minister Benjamin Netanyahu.
Israel, however, was the 10th-largest market for Turkish exports in 2017, buying some $3.4 billion of goods, according to IMF statistics.
"We have excellent economic ties with Turkey. And these relations are very important for both sides," Israeli Finance Minister Moshe Kahlon told Israel Radio on Friday when asked if Israel should break ties with Turkey.
The plight of Palestinians resonates with many Turks, particularly the nationalist and religious voters who form the base of support for Erdogan, who has been in power for 15 years.