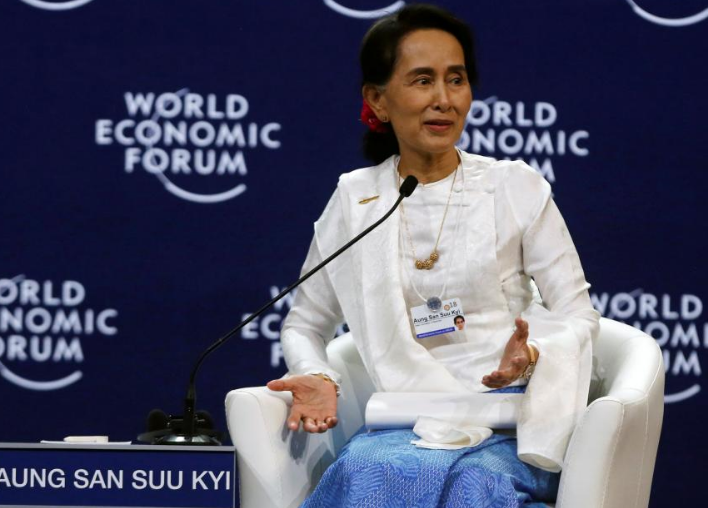 CNN
 —  Myanmar's ruling military junta has pardoned Aung San Suu Kyi on five charges for which she was previously convicted, reducing the lengthy sentences handed down to the deposed, democratically elected leader after
generals seized control
of the Southeast Asian nation.
The pardon was announced by Aung Lin Dwe, the secretary of the regime's governing body, and further details were confirmed by a source with direct knowledge of the case.
The five charges pardoned include offenses against defamation, natural disaster laws, export and import laws and the country's telecommunication law, the source told CNN.
Myanmar's military spokesperson Zaw Min Tun said Suu Kyi's jail sentence would be reduced by six years, he said speaking to the media on camera on Tuesday.
It's unclear how many years Suu Kyi now faces in prison.
The source CNN earlier spoke to with direct knowledge of the case said her sentence had been reduced by 9 years on Tuesday, and that there were prior reductions already made to the amount of time she would have to serve.
Nonetheless Suu Kyi still faces the prospect of decades without liberty, an outcome that has permeated her long political career trying to bring democracy to Myanmar.
As of the end of 2022, the 78-year-old faced a total of 33 years in jail, including three years of hard labor, for multiple convictions including electoral fraud and receiving bribes.
Suu Kyi led Myanmar for five years before being forced from power and detained after her party was re-elected in a landslide election against military-backed opposition.
Army general Min Aung Hlaing seized power at that time in February 2021, ending Myanmar's brief experiment with democracy, imprisoning multiple opposition figures and plunging the impoverished Southeast Asian nation into a raging civil conflict that continues to this day.
Battles between the military and resistance groups unfold daily across the country. Airstrikes and ground attacks on what the military calls "terrorist" targets occur regularly and have killed thousands of civilians, often including children, according to monitoring groups.
Whole villages have been burned down by junta soldiers and schools, clinics and hospitals destroyed as a result of the attacks, according to local monitoring groups.
Suu Kyi, who spent decades under house arrest during a previous military junta and has been a symbol of opposition to decades of military rule, has denied all of the charges levied against her – and rights groups and international observers say her convictions are politically motivated.
As of Tuesday, Suu Kyi still faces sentences for 14 other offenses of which she was convicted, the source said.
The announcement comes as Myanmar's Supreme Court is set to hear appeals by Suu Kyi against multiple convictions over the next two weeks. The source told CNN those appeals will still go ahead.
The United Nations Security Council last year called on the junta to release all political prisoners, including Suu Kyi and former President Win Myint.
This story has been updated with new information.