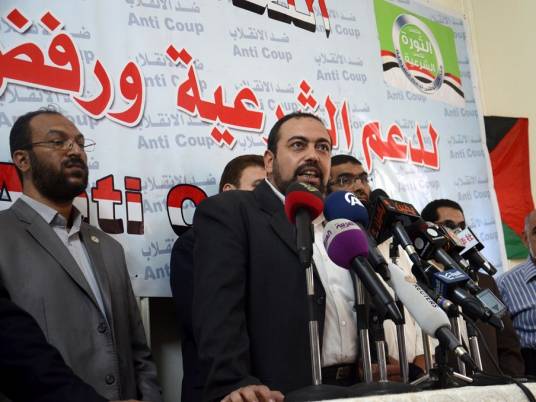 The National Alliance to Support Legitimacy officially announced that it will boycott the referendum on the draft constitution scheduled for 14 and 15 January.
The alliance said in a Sunday press conference that it calls on the Egyptian people to boycott the referendum for "political, legal and rights" reasons. The alliance accused the current regime of seeking to rig the referendum and abort the 25 January revolution.
The amendments to the 2012 Constitution are null as they were carried out by a void committee appointed by coup authorities, the statement read.
The coup authorities have no 'plan B' in case the amendments were rejected in the referendum, which proves they will rig the results, it added.
The political climate is not suitable for the referendum due to the state of polarization in society, incitement to hatred, and the killing of thousands of Egyptians the injury, pursuit and arrest of tens of thousands by the coup authorities which plan the referendum, the statement noted.
"
The coup authority did not announce its commitment to necessary safeguards for the integrity of the referendum in terms of international and local supervision, impartial media, counting votes in sub-committees, and holding the referendum in one day at the level of each [electoral] constituency,"
the statement read.
The police and armed forces currently lack neutrality for taking part in a bloody military coup, which was not the case during the 2012 Constitution referendum, it added.
The National Alliance accused the current regime of excluding a large number of judges and disciplining many of them for rejecting the coup.
The Alliance had issued statements against the referendum in early December, but did not officially announce their boycott until now.
Edited translation from Al-Masry Al-Youm